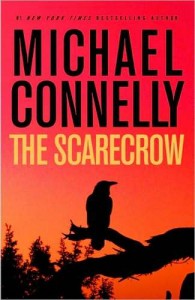 Michael Connelly has a new book, The Scarecrow, coming out May 26 and needs no help from me to sell planeloads of copies. If you're a fan, you've probably already pre-ordered a copy from Amazon. But wouldn't you like to hear anyway that it's a very enjoyable read and that it's good to have The Poet's Jack McEvoy back in the starring role?
Right off the bat, McEvoy gets laid off from the L.A. Times due to corporate downsizing and he's looking for a big story to make the powers that be regret their decision. He receives a call from an irate woman who claims to be the mother of a kid who's been arrested for murder. LAPD claims the kid confessed but the woman says the teen's innocent. Skeptical, McEvoy investigates anyway and finds there was no confession. Furthermore, the M.O. used in the murder is strikingly similar to an out-of-state killing the kid couldn't have committed.
A long way from the career high which came after his encounter with the Poet, McEvoy latches on to the trail of this creepy new killer, who quickly turns his attention on the reporter and even hits McEvoy where he lives. With the help of his former lover, FBI Agent Rachel Walling, McEvoy might just get that big story he's after but may have to pay for it with his life.
I'm a devoted fan of Harry Bosch but I really like McEvoy, too. The Poet rocked my socks and McEvoy is a more romantic hero than Bosch. He seems to fit better with Walling and his methods of journalistic investigation are more familiar to me than Bosch's police procedures. McEvoy has popped up in Connelly's other books (i.e. The Brass Verdict) but those were inconsequential appearances. Having him as the lead once again is a treat which shouldn't be missed by Connelly fans.
Much of my enjoyment of this book also stemmed from it being a paean to the daily grind of print journalism, a dying art as newspapers are shutting down across the country. The descriptions of the newspaper lingo and processes are almost romantic and bittersweet, making me nostalgic for an institution I know is changing in an irreversible way. The movie State of Play, which I saw this weekend, also pays tribute to this same issue (click here for my review and comparison with the BBC version) and it's sad news all around.
On that note, I'm gonna stop writing and go read my paper.
Nerd verdict: This Scarecrow is sturdy