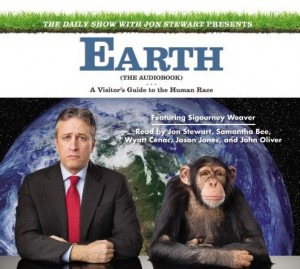 My 3 randomly selected winners for an audiobook of Jon Stewart's Earth are:
Jen Forbus
le0pard13
EIREGO
My 3 winners for audiobooks of David Sedaris's Squirrel Seeks Chipmunk are:
joy

EIREGO

Naomi Johnson
Yes, EIREGO, your name was drawn in both drawings! I think you should immediately book a trip to Vegas this weekend.
Winners, please hit the "contact" tab above (or the red envelope button in the sidebar) and send me your addresses. Hachette will ship the prizes. I must hear from you by Wednesday, Oct. 13, midnight PST or alternate winner(s) will be selected.
Thanks to everyone for your clever, witty entries. The animal personal ads made me laugh. You can still enter my giveaway for John Le Carré's Our Kind of Traitor here. I'll also have lots more drool-worthy items to give away in the coming months so stay tuned!