Originally reviewed for Shelf Awareness, printed here with permission.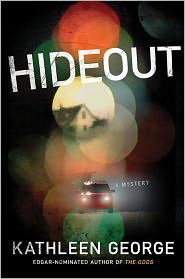 Jack and Ryan Rutter are out driving one night, with a drunk Ryan behind the wheel, when their truck hits and kills a young mother. They flee to Sugar Lake, a summer community north of Pittsburgh, to hide out in a vacant house their mother once rented for vacation when they were kids. Younger brother Jack does odd jobs for eighty-two-year-old Addie Ward, who lives nearby, to keep them fed and under the radar until he can get Ryan to a safer place. But Detectives Colleen Greer, John Potocki, Artie Dolan, and Commander Richard Christie are closing in on the brothers, causing Ryan to take violent action that puts Addie in danger. Jack then has to make the impossible decision between protecting his brother and saving Addie's life.
After her Edgar-nominated The Odds, it's clear Kathleen George knows how to put a crack in readers' hearts with stories about kids trying to survive after adults fail them. Jack, who's nineteen, is a good boy who goes unappreciated by everyone close to him. It's painful to see his innate decency denied by the circumstances of his life. Until he meets Addie, who shows him what he's capable of when someone cares about him.
Ryan, on the other hand, is rotten, though he's the mother's favored son. Once you meet her, you understand why. The woman is a nasty piece of work who has no business procreating. The cops are amusing enough with their banter and sexual tension, but readers should pick up this book to get to know Jack.
Nerd verdict: Seek out Hideout