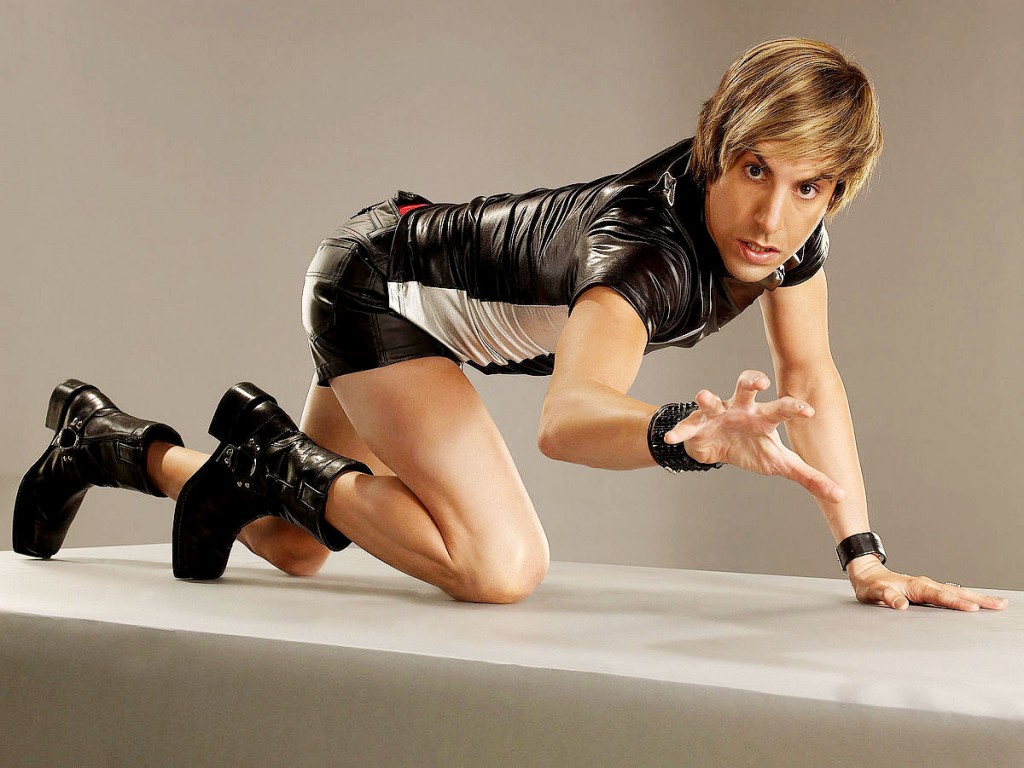 Here's what you need to know about Brüno: you will laugh and you will see lots of full-frontal penis. Will you be offended? Depends on your sensibilities. I wasn't (I expected the raunchiness) though I'll admit to some squirming and groaning.
Sacha Baron Cohen plays a flamboyant fashionista from Austria who's obsessed with fame. After becoming persona none-gayer for literally crashing a fashion show, Brüno goes to Los Angeles seeking stardom despite having no marketable skills. He looks for an agent by (atrociously) reading scenes from Jerry Maguire, tries adopting an African baby to use as accessory, attempts to trap Ron Paul (the 2008 presidential candidate) into making a sex tape with him, and even travels to the Middle East, begging terrorists to kidnap him so he'd receive worldwide attention.
It's hard to review this movie because it's difficult to pin down. It takes aim at many targets—homophobia, gay "converters," vacuous celebs—with varying degrees of success. The casting session Brüno holds for a photo shoot of hot babies reveals the parents' disturbing willingness to subject their kids to anything, even liposuction on a 30-pound baby, just to get the job.
But this kind of desperation for fame—and Brüno is no different from the parents—is old news. People like this are all over reality TV these days. It's hard to satirize them when they're doing a pretty decent job humiliating themselves. So, while some of the bits are very funny, they don't exactly feel fresh. And the surprise superstar cameos don't have as much punch as I'd like.
My feelings for the movie may have fluctuated from scene to scene but one thought remained constant: Cohen is a brilliant actor. His transformation into Brüno is as impressive as Sean Penn's into Harvey Milk, though I'm hardly suggesting an Oscar for Cohen since his performance is a one-note gag instead of a complex human being.
Still, doing what he does requires total commitment and a large dose of bravery because he puts himself in real danger at times. While in the Middle East, Brüno confuses Hamas for hummus and tells a very unamused terrorist that "your king Osama looks like a dirty wizard and a homeless Santa." In Arkansas, he pushes a mob almost to the rioting point by doing something extremely inappropriate at a cage fight. Brüno may never get any respect but I had to give some to Cohen for his all-out approach to making a point or just making us laugh.
Nerd verdict: Brüno is full-frontal funny if not completely fresh
Editor's note: The question of how much this movie is staged vs. real has been oft-mentioned in other articles. Check back next week for my interview with Lloyd Robinson, the agent in the movie whom Brüno wants to represent him. Robinson gives a detailed account of how he was approached, what he knew and when he knew it.