The red carpet arrivals started at 3 p.m. PST, and I thought I'd watch this live, too. Mr. PCN came in after a while and watched with me, and I think it's clear his observations were much more astute than mine. (My recap of the awards show is here.)
3:06 Kelly Osbourne, one of the commentators, says that from where she's sitting, she could literally reach out and touch the stars as they get out of their limos. She couldn't, ergo she doesn't know what "literally" means. I want to punch myself in the head whenever someone misuses that word.
3:13 Claire Danes looks great. Her black and white gown is so…interesting. Ooh, the back is really cool!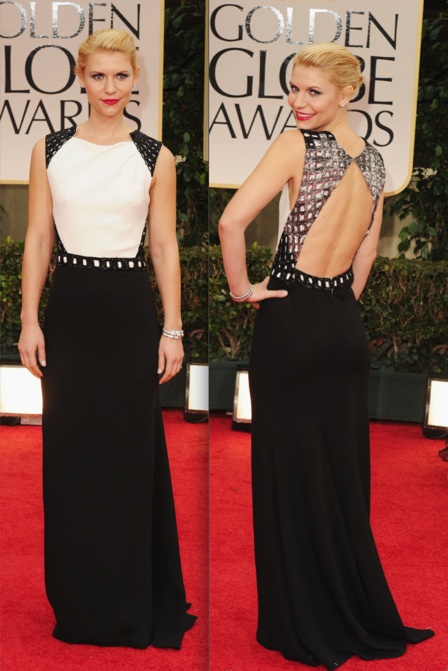 3:15 Jessica Chastain's hair looks dull, not its usual vibrant red. The white Givenchy dress washes her out, too. Since her complexion is so pale, she needs more color, not less.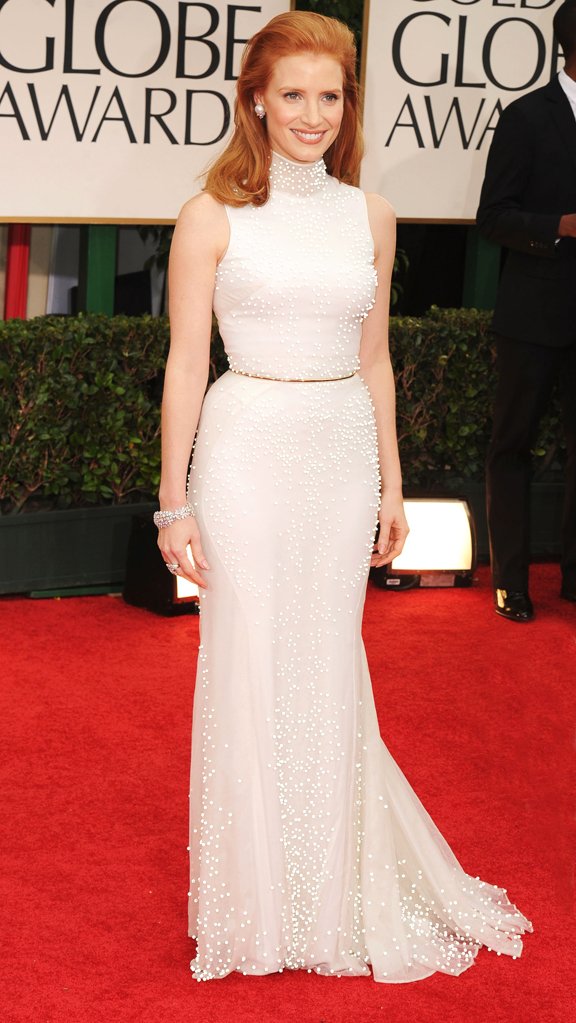 3:16 OMG, UGGIE IN A BOWTIE STANDING UP ON HIS HIND LEGS FOR THE PAPARAZZI! Best moment on the carpet so far.
3:24 Sarah Michelle Gellar just showed up. Her I Dream of Jeannie ponytail is cute, but Mr. PCN says her dress looks like a tie-dyed tent. Her two-year-old picked it out, which explains it. It's not horrible, just…messy.
3:29 Paula Patton looks radiant in sunflower yellow. Best accessory? Her big smile. Almost everyone else looks stuck-up, pissed-off, or constipated, but she looks like she's having a blast!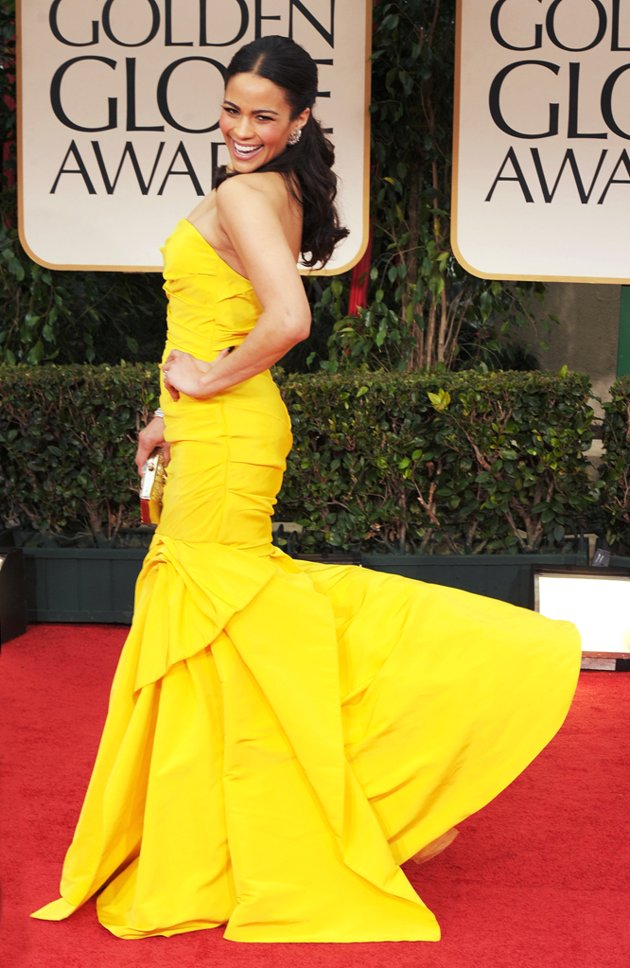 3:32 Kelly Osbourne has no idea what "monochromatic" means, either, since she used the word to describe Claire Danes's dress, which has two colors: black and white. She's making me reach for migraine meds.
3:33 Shailene Woodley looks too matronly. Her Marchesa dress is lovely…for a much older woman. Her hair in that bun is not helping. You're 19, Shailene! Everyone else is trying to look your age; you should, too.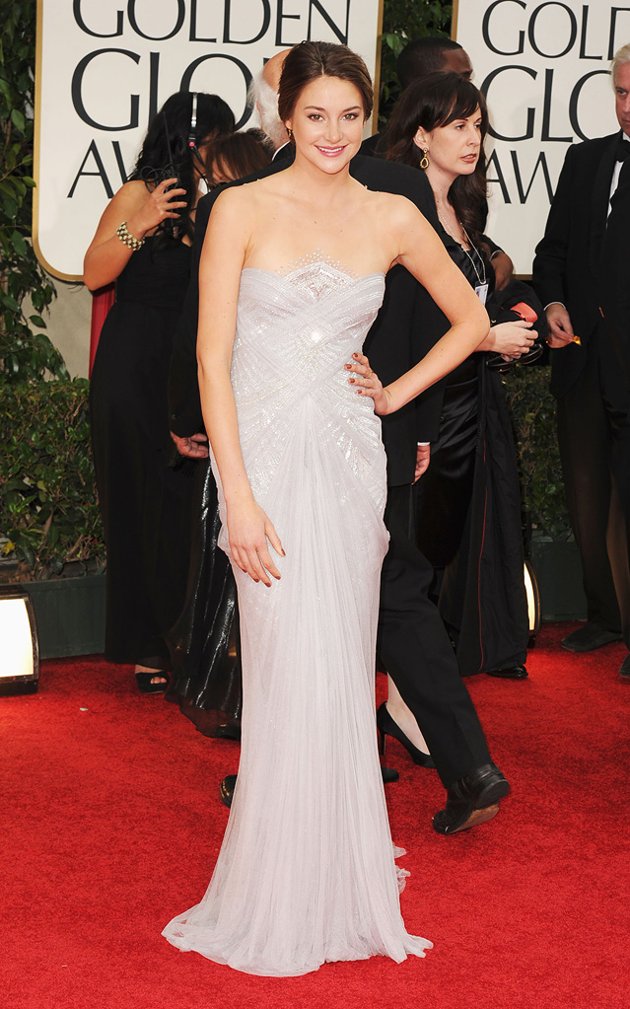 3:39 Sofia Vergara usually pops in vibrant color, but she's wearing a subdued blue Vera Wang tonight, which is kind of boring, especially since it's the kind of mermaid/body-hugging silhouette she usually wears. Mr. PCN remarks that when she poses with her back to the photogs, she's basically saying, "Look at my ass!"
3:42 Octavia Spencer looks lovely in lavender. This is a great color on her.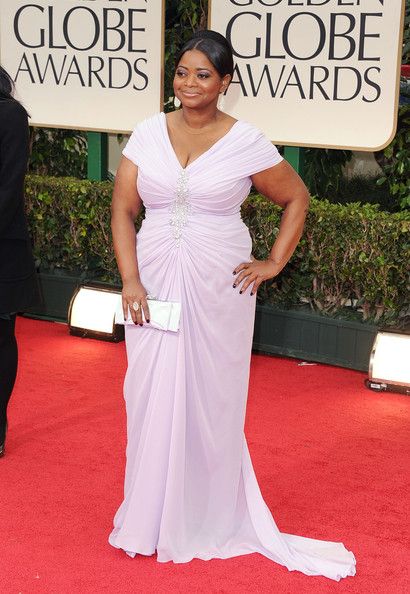 3:45 Freida Pinto is a gorgeous woman, but the blue poofy textured dress makes her look twice her size. Mr. PCN: "It looks like painted elephant skin."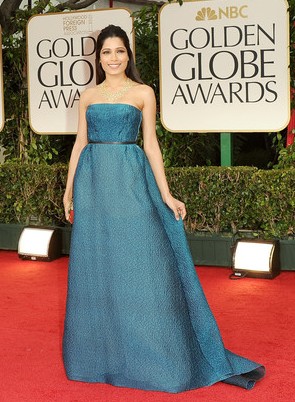 3:47 Julie Bowen is Old Hollywood classy, so beautiful in her Reem Acra dress. Her '40s-style hair perfectly complements the gown.
3:50 Who knew Rooney Mara had dimples? Adorable. I've never seen her smile (well, she's not smiling in this photo, only when she was talking to Ryan Seacrest). Her dress is a little predictable, and it looks too big on her. She's worn edgier ones on her international promotional tour for The Girl with the Dragon Tattoo.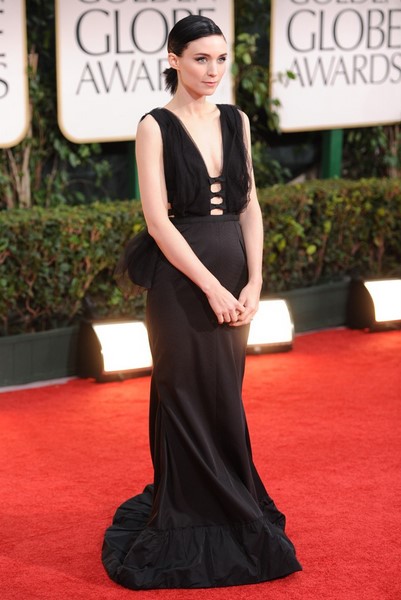 3:54 The Deschanel sisters, Emily and Zooey, are posing together. They're cute, but their dresses are bad. Emily's is ill-fitting, and Zooey's is just not attractive. Not feeling Z's sideburns, but she has tuxedo nails! Best thing about her outfit, bar none.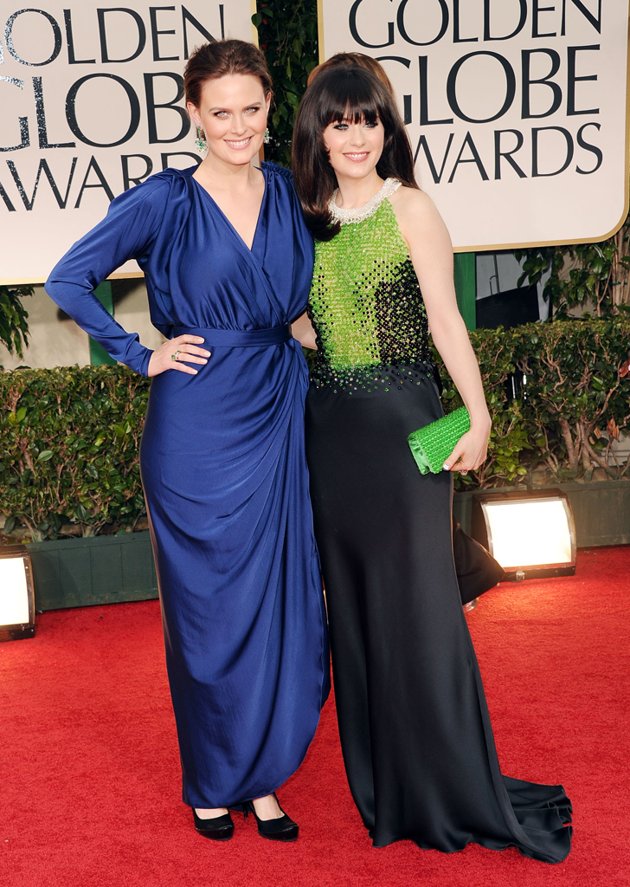 3:56 Charlize Theron looks like a sexy fairytale princess, with her sparkly headband and plunging pink Dior gown. None of this would look good on me, but I find it striking on her.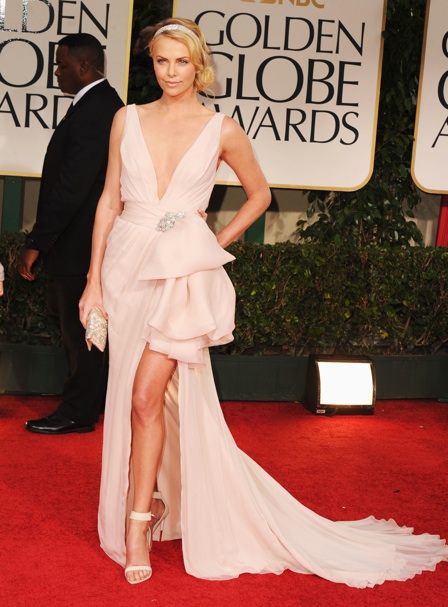 4:01 My first wow moment: Angelina Jolie. White satin Atelier Versace dress that fits like second skin and the red accents and hair and red lips = perfection. No one will be able to top this.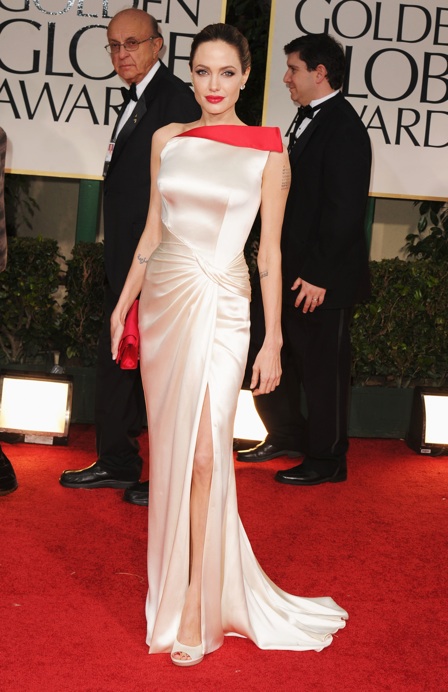 4:10 Evan Rachel Wood looks like she killed a bunch of crows and glued their feathers to the bottom of her dress.
4:13 Mr. PCN says Salma Hayek is wearing the top of the Transamerica Building on her chest. I don't have a better description. That's not to say I didn't like it. It's unusual, and I like it when stars go for something different.
4:25 Michelle Williams has perfect posture as usual, and she's more adorable than puppies, but her dress is unfortunate. It looks like drapes at a bed and breakfast. Headbands must be the new trend. Don't think I'm on board.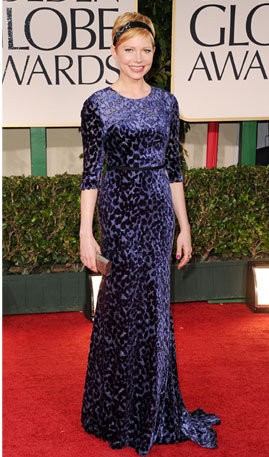 4:31 Nicole Kidman's dress is an architectural wonder. Impressive, lots going on, but it works. It gets the most unique award.
4:32 I never realized Reese Witherspoon was so, ah, busty. Her loose hair and the big grin indicate she and the girls are ready to party!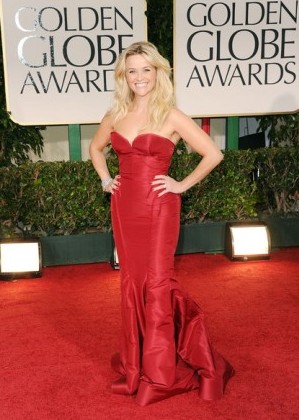 4:37 Dianna Agron says her dress is laser cut swans, but Mr. PCN says she's just wearing red doilies from head to toe.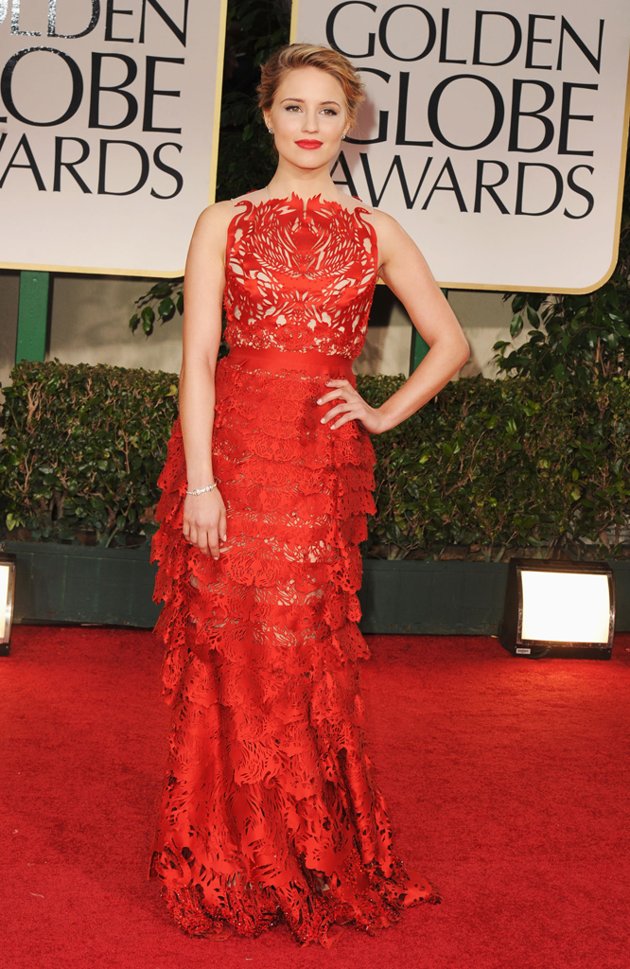 4:38 Mr. PCN: "If you make Lea Michele's dress green, she's Poison Ivy in Batman & Robin." That's it, exactly!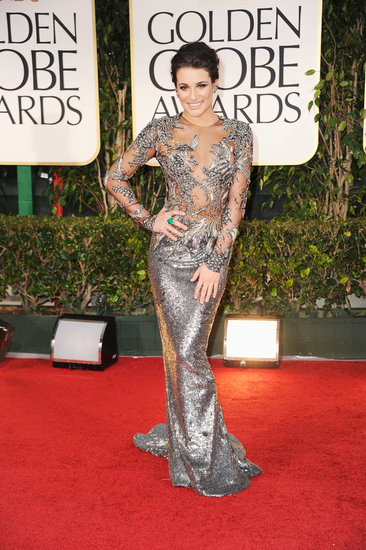 So, the best dress goes to Angelina Jolie, with Charlize Theron in second. Honorable mention goes to someone whose outfit wasn't featured in the E! coverage, but who deserves kudos for being in a class of her own. Tilda Swinton sometimes confuses me with her style statements, but I think this one is stunning.
Whose gowns did you love? Who did you think must have gotten dressed while drunk?