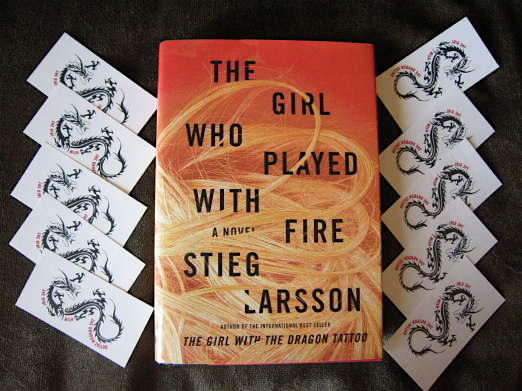 If you're a regular reader here, you know I love the Millenium books about Lisbeth Salander and Mikael Blomkvist. Stieg Larsson originally wrote them in Swedish and they've been translated into more than 30 languages.
The good people at Knopf have sent me a hardcover copy of the latest entry, The Girl Who Played with Fire (read my review here) and a bunch of temporary dragon tattoos (referencing the first book in the trilogy, The Girl with the Dragon Tattoo) to give away to one of my readers. I tried the tats out on myself; all the neighborhood kids wanted them!
To enter, you just have to:
Be a subscriber or follower on Twitter
Leave a comment answering the following question: What's the best book you've read that wasn't originally written in English?
I'll take entrees until Sunday, 8/30/09, midnight PST.  Good luck!