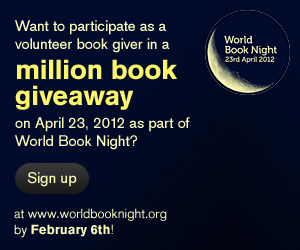 You've probably heard/read a lot about the World Book Night that's happening on April 23. It's an event involving volunteer givers who will go out into their communities and give away 20 copies of a book they love to people who might not otherwise read, or are light readers. The previous deadline to apply as a giver was today, February 1, but it's been extended to next Monday, February 6, midnight EST!
Carl Lennertz, Executive Director of World Book Night USA (it's also happening in the UK on the same day), generously took some time to answer a few questions for me about this exciting event.
Pop Culture Nerd:  Why was the deadline extended?
Carl Lennertz: Mostly due to the Super Bowl ad we're going to run. Hah! I sensed people were stressing and could use a little extra time. And we had built in some time. But I can't go past Feb. 6. We could launch now with every state very well covered, and every city—and some towns I never heard of, which is great—but I figured the more the merrier. Even if I can't have less stress, I can offer it to others.
PCN: Can you suggest some places that would make great locations for givers to find light readers?
CL: I hesitate to answer because I want the givers to do that themselves, to let it be spontaneous and original. And they have. The public TOTALLY gets this, and it's been amazing to see the responses. If you like, I'll share some after Feb. 6. Okay, okay, don't pout. My favorites run from nursing home waiting rooms to pubs, from commuter buses (to those not reading—aha!) to schools in low-income neighborhoods.
PCN: What happens if you get an overabundance of requests for some of the titles and not enough for some of the others?
CL: We're ahead of you on that one. That's why the givers had to make a second and third choice. A fair number of givers had a different place in mind depending on the book they got!
PCN: What are your expectations for WBN? How will you rate its success?
CL: I want all the givers to have a fun, safe, and rewarding day; for the bookstores and libraries to continue to be cherished as the community centers that they are; to get at least 100 local news stories and 2 national stories about WBN and the value of reading; to have a success that engenders some foundation money so we can grow this yearly; and ultimately, to touch the lives of a LOT of people. I won't say change a life, as that's a bit grandiose, but still, that would be possible. Just the gift of a book might touch the giver and recipient in some sweet or deep way.
PCN: If givers want to share their experiences about that night, is there a central message board/forum/site where they can go?
CL: I'm not as interested in any central sort of gathering point for the stories, except perhaps a WBN Flickr page. And Twitter is essentially national. But what I would love is for the year-round love and sharing to reside and go 'round locally within each community, with the bookstore or library at the center. We're a huge country, and I'm big on regional flavor, or the flavor of communities, online or otherwise. And yes, it could all bubble up via natural interest groups, like teachers, soldiers, health care workers, government officials, caregivers of all sorts, and so on. We'll see!
Thanks so much, Carl! And thank you to Wiley at AuthorsOnTheWeb.com for facilitating the interview.
If you haven't applied to be a giver, go here for more info and to sign up. Here's a list of the books that were chosen to be given away. If you're in the UK & Eire, go here.
If you have applied, what books did you request, and why? Good luck and happy giving!