I'm out of town. This review is by contributing writer Eric Edwards. —PCN
******************************************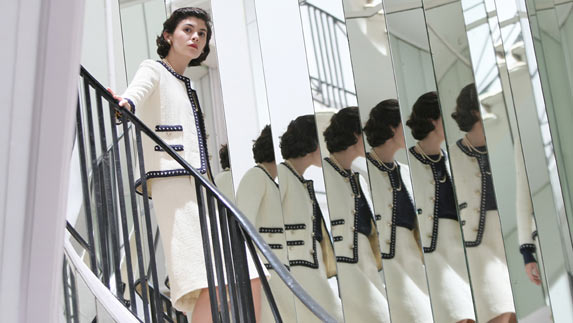 If you're looking for insight on who Gabrielle "Coco" Chanel was before she became the fashion icon synonymous with class and style, you're not going to find it in the French film Coco Before Chanel (limited U.S. release, September 25). Watching this is more like attending a fashion show, where we get to see the glamorous clothes paraded down the runway but none of the drama we know is going on backstage.
It's not Audrey Tautou's fault. As Chanel, the actress is mesmerizing. Even devoid of makeup and in dowdy clothes, she remains the most enigmatic person on the screen. Perhaps this is why director/writer Anne Fontaine chose her for the lead—it was the only way to make the movie compelling.
The movie opens with two young girls in the back of a horse-drawn wagon being dropped off at an orphanage. Young Gabrielle (Lisa Cohen) and her sister, Adrienne (Marie Gillain), are ushered by nuns into their new place of residence, with Gabrielle lingering in the doorway trying in vain to look into the eyes of their driver. We later learn this must have been her father, but we never know for sure since the older version of Gabrielle often lies about her past.
On visiting day, young Gabrielle follows perfect-looking little girls to the courtyard, hoping to be visited by her father. This never happens, setting the tone for the rest of the film: Gabrielle will always be let down by the men in her life.
The men who later disappoint her are Etienne Balsan (the wonderfully aloof Benoit Poelvoorde), the older and extremely rich man who gives Gabrielle the nickname "Coco," and the dashingly handsome Arthur "Boy" Capel (the wildly sexy Alessandro Nivola), who represents himself as the man of her dreams until we find out he is betrothed to another.
The two men fight over Coco but the confrontation resembles nothing more than polite conversation during a game of billiards. Arthur provides the funds for Gabrielle to start her outrageously successful hat and dress-making business in Paris, but she finds that no bank will take her seriously without Arthur. That's glossed over, too. These are only two of many potentially dramatic moments that went unrealized, which makes this as frustrating as a beautiful gown left unfinished.
Much credit is due, however, to cinematographer Christophe Beaucarne, who makes the scenery and Tautou look as striking as Chanel's famous dresses.