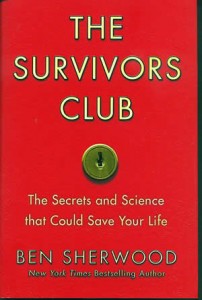 It's Monday. Do you think, "Damn, it's gonna be another long week"? Or, "Hey, I survived my weekend"?
According to Ben Sherwood's The Survivors Club, how you look at life can determine whether or not you live or die in a catastrophe. This book gave me anxiety because it constantly spouts statistics about one's chances of dying in a myriad of ways. But I couldn't stop reading because it also shares fascinating survivor stories and tips on how we can increase our chances of surviving unfortunate events, big and small.
Sherwood interviews people like the woman who lived after falling from the sky (she was a flight attendant on a plane that exploded), the man who didn't die after his suicide jump from the Golden Gate Bridge (he changed his mind on the way down), the woman who survived a knitting needle through the heart AND breast cancer. Reading this book was like watching an episode of the '80s show That's Incredible!
Sherwood also talks to doctors and empiricists about the many variables that influence a person's chances of survivability. Are you an optimist? You might die first in an extreme situation! The book contains instructions on how to take an Internet test called the Survivor Profiler to determine your Survivor Personality.
There are 5 types:
The Fighter attacks adversity head-on
The Believer puts faith in God
The Thinker uses his/her brain to get out of a bad situation
The Realist accepts life isn't always rosy and knows how to adapt
The Connector draws strength from family and friends
We've all survived one thing or another, so which type are you? Answer this question in the comments section and I'll enter your name in a random drawing for 1 of 5 paperback editions of The Survivors Club I'm giving away, courtesy of Hachette Book Group.
Rules:
You must be a subscriber or Twitter follower of this site (see sidebar on right)
Per HBG's request, only U.S. and Canada residents are eligible (they'll ship books directly to winners)
If you tweet about this giveaway, I'll give you 2 extra entries
Contest ends Friday, February 5 at 5 p.m. PST, with winners announced only here and via Twitter. Winners will have 48 hours to reply with mailing address before alternate names are chosen.
Now, tell me what kind of survivor you are!