I usually love movie award shows but last night's Screen Actors Guild Awards bored me. Many of the winners were the same as Globe winners from less than a week ago so I couldn't muster up enough excitement to cheer even if they deserved it.
For a complete list of winners, see here. Read on for my random thoughts and nerdies for the event.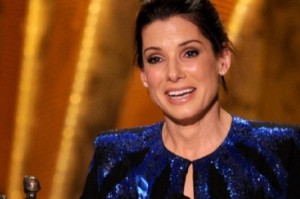 Most Shocking Winner Even Though I Really Like Her: Sandra Bullock for The Blind Side. Yes, I know she won a Globe but that performance wasn't up against Meryl Streep's in Julie & Julia (Streep won in the comedy category). I'm a big fan of Bullock's, thought she was quite good in the movie and with her acceptance speeches, but Streep's Julia Child wasn't just a performance, it was a complete transformation.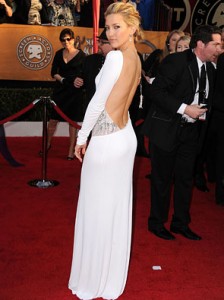 Least Likely to be Wearing Any Underwear: Kate Hudson. How do you squeeze anything under that dress? How did she keep her bits in? I'm not picking on her; I really want to know.
Most Potentially Riotous Glee Guest Star: Justin Timberlake. After cast members said they wanted him on the show, Timberlake said he'd love to do it but no one has asked. Ryan Murphy, call JT's people first thing Monday morning! Is it wrong for me to want the cast to do "Dick in the Box"?
Best Inclusion of Overlooked Co-Stars: Mo'Nique. In winning for Precious, she thanked the co-stars who haven't been in the spotlight with her but are no less deserving of attention and accolades. She mentioned the actors who played the students in the Each One Teach One program and, most movingly, the child with special needs who played Precious's daughter, Mongo. Mo'Nique has proven to be the most elegant acceptance-speech giver of the season. I can't wait to hear what she says when she wins her Oscar.
Most Likely to be Working Until She's 150: Betty White. Usually, during tributes to life achievement recipients, I take a bathroom break. Heck, I take a whole shower, those tributes are so long. But the one for White showed what an engaging entertainer she's been throughout her long career, and her acceptance speech ("I look out at this audience and I see so many famous faces…I've worked with quite a few. Maybe had a couple") proves that, at 88, she's still got the wit and spunk to go a few more decades.
Best…Oh, Never Mind: I just wanted to run this picture of Colin Firth. Do I need an excuse or a fake award category?
Favorite Homegirls: Tina Fey and Bullock. Fey went to my alma mater, University of Virginia (I have a yearbook with her picture in it—no glasses, listed as Elizabeth Fey), and gave it a shout-out when she thanked her acting teachers there. Meanwhile, Bullock went to high school at Washington-Lee in Arlington, Virginia, not far from where I grew up (my brother's best friend was in her class).
Best News for 40-Year-Old Men: The stunning Sofia Vergara says she's single and looking for a 40-year-old guy. Her publicist's inbox is going to explode.
Did you watch the awards? What were highlights and lowlights for you?