by Eric Edwards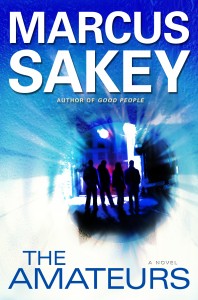 Wanna know how I can tell I've read a good book? When I've done it in one sitting. Marcus Sakey's The Amateurs made my bum sore from sitting on the couch all day.
Alex, Mitch, Jenn and Ian are four people in their 30s who have come together mainly because their real friends have all married and had children, or become too wildly successful to deal with people who are neither married nor even mildly successful. These rejects share the common bonds of nowhere careers and the lack of interest or funds to change their lives. They aren't losers, just stuck in life and can't seem to go forward. So they drink, and form the Thursday Night Drinking Club. It's during one of these weekly social engagements that they hatch a plan they believe will increase their fortunes and better their lives.
"Except for one thing."

"What's that?"

"We're not criminals."

The big man's smile widened a notch. "Exactly."

"Huh?"

Ian said, "That's just it. We're not criminals. We're normal people. No one, not the cops, not Johnny, no one would look at us. It's like if four people robbed the liquor store down the street. Would you start by checking to see if a trader, a travel agent, a doorman and a bartender were involved?"
So sets the stage for a disastrous caper that brings them closer together while ripping their lives apart.
Sakey's style could probably be a bit leaner, but where it isn't succinct, it's realistic. He taps into an everyman way of speaking when letting us in on a character's inner thoughts. For everyone who has ever played by the rules, gotten nowhere and finally thinks, What if I don't follow the rules? Sakey has written a cautionary tale of what could happen when you cross that line.