The marketing for Valentine's Day makes the movie look like a shiny, pretty gift for those looking for a little romance come February 14. In reality, it's like a box of candy that's already been opened, with the contents all stale and hard to swallow.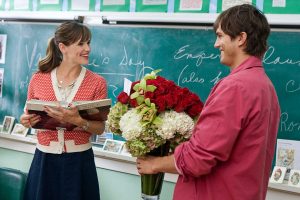 Many storylines and characters collide to make up the narrative. There's Reed (Ashton Kutcher), the boy who owns a flower shop that gets a huge boost in business on the titular day; his best friend Julia (Jennifer Garner), the impossibly perky grade school teacher who's in love with a brilliant surgeon (Patrick Dempsey); Liz (Anne Hathaway), an office assistant who doubles as a phone sex operator; Captain Kate Hazeltine (Julia Roberts), a military officer flying home on leave who strikes up a friendship with a fellow passenger (Bradley Cooper), and a couple of silly teens in love (Taylors Swift and Lautner).
As you can see, almost all of Hollywood is crammed into this movie, and I didn't even mention the plotlines involving Shirley MacLaine, Jessica Biel, Jamie Foxx and several others. (Kathy Bates and Lautner might as well have been glorified extras, considering how little screen time and few lines they have.) It felt like director Garry Marshall was cooking spaghetti, throwing all these stars up on screen to see who sticks. Sadly, none of them do.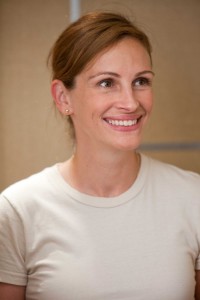 Some of these actors are favorites of mine, but most were directed to overact to the point of embarrassment. Biel's character, Kara, has a ridiculous meltdown that made me feel sorry for the actress. Swift is goofy but in an over-the-top way, trying too hard to impress in her big-screen debut. No one behaves in any manner that seemed even remotely real (except for Roberts, who wisely underplays her role) and in the end, their stories are wrapped up with unnatural and implausible conclusions. If you're looking for a romantic movie with lots of attractive stars and real heart, skip the cineplex and rent the superior Love Actually instead.
Nerd verdict: If not a massacre, Valentine's Day is still a giant mess