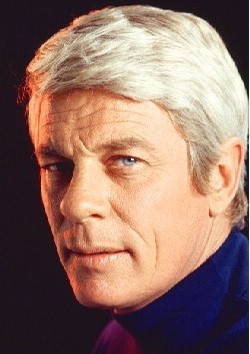 One of my very first memories of TV was when I was about 5, living in Saigon. My family would gather around the tube and watch Mission: Impossible. The struck match and that pounding Lalo Schifrin score burned themselves into my brain as surely as that tape would self-destruct after 5 seconds every week.
I couldn't understand a word of English then but loved Peter Graves as Jim Phelps—that authoritative voice and those crinkly eyes represented a reassuring solidity during chaotic times. I knew that no matter what, Phelps would lead his team out of trouble.
About a decade later, after I'd moved to the States and could speak English, Graves gave me stomach cramps from laughing at his portrayal of Captain Clarence Oveur in Airplane!, asking those inappropriate questions of little Joey in the cockpit. "Joey, have you ever seen a grown man naked?" and "Do you ever hang around a gymnasium?" (See highlights reel below.) I was delighted to see my childhood idol have such a terrific sense of humor.
So news of his passing on Sunday, just four days short of his 84th birthday, brought great sadness. But I choose to remember the laughs he gave me, and silently thank him for making a girl believe that the big mission she was about to embark on would not be an impossible one.