The other day, I was looking at my humongous stack of books, thinking, "Wish I had more time to read all those" when lo and behold, my TV broke. Ha! With no American Idol or Cougar Town to distract me, I tore through six books in quick succession, including the following four March releases.
The Last Child by John Hart (Minotaur, paperback edition, available now)
Thirteen-year-old Johnny Merrimon's twin sister Alyssa disappeared a year ago while going home from school but he refuses to give up looking for her. He's more convinced than ever that she's alive after he witnesses a murder in which a dying stranger tells him, "I've found her." His relentless search jackknifes him across the paths of sex offenders and other dangerous people with desperate reasons for keeping the truth from coming out.
Edgar-nominated for Best Novel this year, Child has a chilling timeliness considering the Jaycee Dugard and Chelsea King cases, though it was obviously written before those incidents. The prose can be overly descriptive at times but Johnny is a character who stays with you. He's a child living a nightmare even his parents can't seem to bear, forced to be an adult before his time, losing faith in God along the way but never in his family. The way he takes care of his incapacitated, grief-stricken mom; longs for his father to come home; and keeps a suitcase of Alyssa's favorite things ready for when she returns is heartbreaking in its defiant conviction.
Hart tackles so many themes—redemption, faith, loyalty, forgiveness—and Johnny goes through so much in this book that it's difficult to summarize his arc here. Suffice it to say that in the end, to paraphrase the Stones, he may not get exactly what he wants but finds he gets what he needs. Nerd verdict: A Child that's hard to forget.
Buy The Last Child from Amazon

Buy from IndieBound
The Spellmans Strike Again by Lisa Lutz (Simon & Schuster, March 16)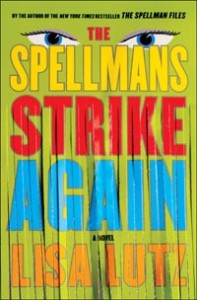 After the darkness of Child, I reached for the new Spellman installment to lighten things up. Lisa Lutz didn't disappoint. In her fourth novel about the wacky P.I. family from San Francisco, Izzy has taken over the business from her parents but her personal life is still one big puzzle. She's juggling cases involving a missing butler and a screenwriter's trash while being blackmailed by her mother into going on dates with men her mother thinks are good for her. There's also her mission to take down her slimy nemesis in the P.I. business, Rick Harkey, and her unrequited feelings towards her cop friend, Henry Stone.
The cases are beside the point here. There's no horrific violence, great tragedy or high body count; you read these books for the quirky characters. If you're thinking, "But quirky can be annoying!" let me tell you that Lutz knows how to keep her characters on the right side of Crazytown. When one character does cross the line and goes too far, Lutz slaps hard and apt punishment on that person.
Several ongoing subplots get resolved in this book, some very satisfyingly, one realistically, and one sadly. There's a sense that things, while not yet perfect, are finally falling into place for the Spellmans. Perhaps that's why many publications, including Publishers Weekly, are reporting this is the last installment in the series. But in a goodreads discussion, Lutz said: "What I can say right now is that there won't be another Spellman book in March, 2011. I've been working on other projects. However, I think I will probably do at least one more Spellman book after that." Nerd verdict: Strikes the right note.
Buy The Spellmans Strike Again from Amazon

Buy from IndieBound
Caught by Harlan Coben (Dutton, March 23)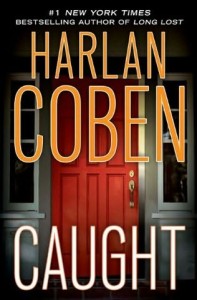 Wendy Tynes is a TV journalist who specializes in taking down sexual predators. When her latest story, targeting a social worker named Dan Mercer whom many swear is honorable, causes violent consequences, Tynes wonders if she helped excoriate an innocent man.
She also discovers a disturbing pattern of people with past ties to Mercer being publicly disgraced within a short amount of time, all involving evidence which seems to appear suddenly out of nowhere. Throw in a missing teenaged girl, a disappearing dead body, a mysterious character who hides in shadows, a vigilante parent of a molested boy and you've got the usual Coben tale that makes you stay up late and leave your chores undone.
This feels like a deeply personal novel for the author. A father of four, Coben writes about different types of family dynamics—a young widow raising a teenaged boy, a seemingly perfect family who may not be quite so, extended families with friendly ex-spouses—and kinds of situations I imagine keeps him up at night as a parent.
Like Hart, Coben covers themes like forgiveness, faith, and redemption, as well as the timely issue of what unemployment does to one's identity and dignity. There might be too many plotlines here, though; several endings are required to wrap up everything, one of them hinging on a discovery that Tynes should've made much earlier in the book. But it moves at breakneck pace, has poignant moments plus a Win cameo, and will leave you with lots to think about. Nerd verdict: You'll get caught up in Caught.
Buy Caught from Amazon

Buy from IndieBound
Known to Evil by Walter Mosley (Riverhead, March 23)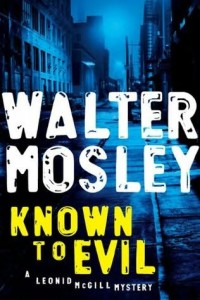 Up until recently, I'd never read Mosley. Boy, did I feel foolish when I finally cracked one open. I read last year's The Long Fall and this follow-up back to back, swooning at the writing, envying how he makes it look so easy.
Now that Easy Rawlins is retired, Leonid McGill is Mosley's new hero, a black man with a Russian-Irish name, a New York City private eye who's trying "to go from crooked to slightly bent." When one of his underground contacts asks him to watch over a young woman to make sure she's safe, Leonid finds she's gone into hiding and deadly assassins are after her for reasons unknown. Meantime, his two sons have also gone missing, getting into some trouble of their own.
Mosley's writing has such a rhythm to it that I often read aloud to fully appreciate it. I can hear and see the city in his mean, lean descriptions, leavened by a healthy dose of humor. Witness the following passage about a day he took his family to Coney Island:
Two redneck Brooklynites got it in their heads that a beautiful white woman like Katrina could do better than a fat little black man. All three kids were with us…

The two guys had a brief span of time in which to retreat. I stood up, walked over to them, and time was up.
Leonid is a singularly complex character, a man who can't bear to leave his loveless marriage for the woman he loves because his wife has asked him to forgive her infidelity (only one of their three children is actually his). It's as if he's doing penance for his own past actions; if she doesn't deserve forgiveness, then neither does he.
I must say I was in love with the book until the last five pages or so, when the big bad person is revealed. The motivation behind all the killings is so illogical based on previous information that I had a hard time accepting it. Hit men were hired, multiple people died, and for what now? Come again? The explanation felt rushed, like a cop-out. Despite that (and this is rare for me because I have low tolerance for lame endings), I'd still recommend this book (and read future ones in the series) because the other 99.5% of it is so enjoyable. Nerd verdict: Weak ending, but still a lot of good in Evil.
Buy Known to Evil from Amazon

Buy from IndieBound
Do any of these strike your fancy? What other March releases are you looking forward to? What do you have on deck for this weekend?
Disclosure: If you click on any of the "buy" links here and actually purchase these or any other books, I'll get a tiny commission that might eventually accumulate enough for me to buy a cup of coffee. I'm already overly caffeinated, you say? Then I'll put the money towards maintaining this website. Thanks.