I read a lot of mysteries so my head is often filled with stories about death and other gruesomeness. Every once in a while, I like to clear the palate by reading something different. Here are a couple non-mysteries I recently finished, though I can't say they were all lightness and rainbows.
One Day by David Nicholls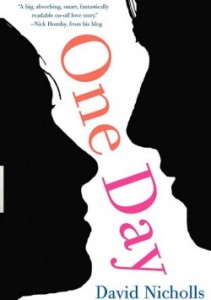 Emma and Dexter meet in 1988 on their graduation day from an Edinburgh college and we follow the ups and downs of their friendship by checking in with them on the same day, July 15, every year for the next 19 years. On that first day, Emma, a feminist and academic, expresses her hopes of changing the world while making playful predictions of how Dexter, a privileged playboy, would turn out by the time he's forty. As anyone who's ever been an idealistic twentysomething knows, life doesn't always work out the way you envisioned it. We witness Emma and Dexter's disillusionment, their difficulties in relationships with other people and attempts to adjust their worldview as they mature. Through it all, their relationship remains a constant, ultimately leading to both happiness and tears.
A blurb in the front of this book likens it to When Harry Met Sally but I think that's too convenient and lazy a comparison. I really enjoyed that movie but it's a lark compared to this story. One Day delves much more deeply into the messiness of life and death, unfulfilled potential and unrequited feelings, how there's a window of time to do certain things and once it closes, sometimes it's forever. Because the book spans almost two decades, you can probably relate to it no matter where you are in your life journey. And if you've ever had romantic feelings for your best friend but feared you'd ruin your friendship, you know where Dexter and Emma are coming from.
I was impressed by how well Nicholls, using the third person omniscient POV, captures Emma's inner life. I've had male writer friends tell me getting inside a woman's head is one of the biggest challenges for them as a writer, but Nicholls makes Emma believably complex, not a man's idealized or clueless version of how a woman thinks and behaves. I enjoyed her musing while on a date with a wannabe stand-up comedian who wouldn't quit making jokes:
He's laughing me into a stupor, she thought. I could heckle, I suppose, I could throw a bread roll at him but he's eaten them all. She glanced at the other diners, all of them going into their act, and thought is this what it all boils down to? Romantic love, is this all it is, a talent show? Eat a meal, go to bed, fall in love with me and I promise you years and years of top notch material like this?
Dexter is less likable, with his partying and womanizing, but he recognizes Emma's beauty long before she does so he's not completely superficial. He resembles guys I knew in college (I'm about the same age as Dexter and Emma) who later straightened out so I could tolerate Dexter's shallow phase and believe he'd eventually mature.
The movie version is already in production with Anne Hathaway and Jim Sturgess (21, Across the Universe) as the leads and I think they're excellent choices. Nicholls, like he did for the screen adaptation of his novel Starter for 10, wrote the script and An Education's Lone Scherfig is directing. Read the book now so you can be a snob when the movie comes out.
Nerd verdict: One Day stayed with me for much longer

Buy One Day from Amazon
| B&N| Powell's| IndieBound
Holly's Inbox: Scandal in the City by Holly Denham

Another male author who has an impressive grasp on the female voice is Bill Surie, who uses the pseudonym Holly Denham to write his two books about, well, Holly Denham. Scandal is the sequel to last year's Holly's Inbox and once again, Surie uses only e-mails to tell our heroine's adventures in her professional and love life but somehow manages to make her a multifaceted character. *Spoiler below if you haven't read the first one.*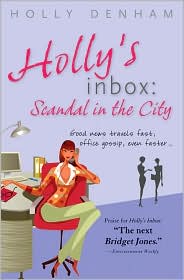 The novel begins with Holly being in a fairly good place: she's up for a promotion and she and Toby are living together. Well, technically they are but Toby is always at work or out of town. Holly begins to wonder if he's having an affair, her suspicions strengthened by a bitchy co-worker's behavior towards Toby. Her new position also doesn't turn out well and she gets unexpected news when she goes to the doctor. At one point, Holly hits rock bottom but with the support of her friends, she manages to bounce back in time to discover the real reason behind Toby's absences. *End spoiler*
As with the first book, this one has more emotional impact than you might expect from a book told in a limited format. Nowadays, we probably communicate with our loved ones electronically more than any other way so it's plausible that e-mails would divulge much about our daily lives. (I just wish there weren't so many typos, which may resemble real e-mails but I assume this book went through copy edits.) I felt Holly's pain and frustration in her messages, even when she tries to remain professional in dealing with a mean higher-up or brave in the face of adversity so her family wouldn't worry too much. The format made it clear that a skilled writer doesn't need long-winded prose to paint characters with depth. Surie eliminates unnecessary details to cut straight to Holly's heart.
Nerd verdict: Add Scandal to your inbox
Buy Holly's Inbox: Scandal in the City from Amazon
| B&N| Powell's| IndieBound
What are you reading this weekend?