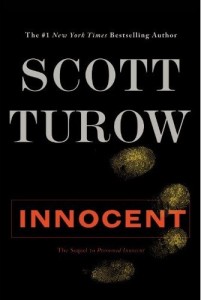 I've been MIA the past few days because friends are in town for the L.A. Times book festival. I was also sacked by a two-day migraine that made me want to self-lobotomize with a melon scooper.
But enough excuses. Below are the 5 winners of Scott Turow's Innocent (read my review here), his sequel to Presumed Innocent. The names were randomly selected by random.org and the first one on the list gets a copy of both books, courtesy Hachette Book Group.
le0pard13
Vicki
WotV
Sarah E
Naomi Johnson
All winners must contact me by midnight PST, Tuesday April 27, with a mailing address or alternate name(s) will be chosen.

Thank you all for entering and sharing your stories about being falsely accused. They made me want to strap on a cape and slap some justice into this world.
Innocent comes out May 4 and you can buy it from Amazon
or from an indie bookstore.