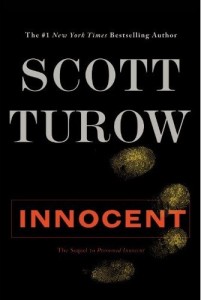 No, I didn't accidentally omit the Presumed in that title. Scott Turow follows up his 23-year-old blockbuster debut with a sequel, out May 4, titled simply Innocent. But that's the only thing simple about it.
Rusty Sabich has aged in real time and is now the 60-year-old chief judge of an appellate court in Kindle County. He's up for state Supreme Court when he wakes up one day to find his wife dead next to him. He waits almost 24 hours to call in authorities, claiming shock. But Tommy Molto, the lawyer who accused Sabich of killing his mistress in the previous book, doesn't buy it, and once again, Sabich finds himself on trial for murder with Molto as his prosecutor.
Having read Presumed, I anticipated a final twist and tried to crack Turow's formula to figure it out early on. I couldn't. All my theories were debunked and 25 pages from the end, I still hadn't guessed the whole truth. When Turow finally reveals everything, it's horrible but makes perfect sense, not something tacked on just for cheap shock value.
Though Innocent is expertly plotted, the characters are hard to like. I often referred to Sabich as Sumbich in my head because he, along with a couple other characters, behaves selfishly and stupidly at times. They use emotional pain as an excuse, or say mistakes are necessary en route to self-realization. That's an understandable justification if they only recognize their wrongdoing in hindsight. Knowing something is deplorable and doing it anyway is another thing altogether.
But, hey, these people make you glad you're not nearly as screwed up as they are. The legal and mystery aspects are engrossing, and I could clearly envision the sure-to-be-made movie. Harrison Ford and Bonnie Bedelia could return as the Sabiches; Jesse Bradford, who portrayed 8-year-old Nat in the 1997 movie of Presumed Innocent, has grown up to become a fine adult actor and could easily reprise his role, too. But someone else would have to play Sandy Stern, the lawyer who reps Sabich in both trials, since he was played by the late Raul Julia. His would be big shoes to fill.
So, want to be able to say to your friends, "Of COURSE I know there's a sequel to Presumed Innocent coming out next month, I'm already reading it"? Thanks to Miriam at Hachette Book Group, I'm giving away FIVE copies of Innocent, with one grand-prize winner getting a copy of Presumed Innocent, too. (You don't need to read the first novel before the sequel because Turow skillfully avoids spoiling the former's surprise ending, but it would give you a deeper understanding of some characters' motivations.)
To enter:
leave a comment about something you were falsely accused of
be a subscriber or Twitter follower (tell me which). Current subscribers/followers get two entries; people who tweet about this giveaway get three
you must live in U.S. or Canada, no P.O. Boxes
Giveaway ends Saturday, April 24, at midnight PST. Five names will be randomly drawn; the first name chosen will get both Presumed Innocent and Innocent. I won't be contacting each person individually; winners will only be announced here and on Twitter so make sure you check back. Winners will have 48 hours to reply with a mailing address before alternate name(s) are selected.
Now, let's hear some guiltless secrets!