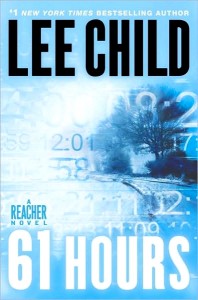 After 13 books, you may think you know Jack Reacher pretty well but in 61 Hours (Delacorte, May 18), Lee Child allows small, revealing glimpses into Reacher's psyche that might surprise you. This 14th novel is different from the rest in quite a few ways, hinting at more revelations in future installments, starting with the one coming out October 19 (two books in one year is also a change for Child).
Reacher is on a bus doing his nomad thing when it skids on ice and crashes in Bolton, South Dakota in the middle of a blizzard. The cops can't come to the passengers' aid right away because they have another situation on their hands—providing 24/7 protection to an important witness in an upcoming drug trial. Knowing a useful ally when they see one, the police recruit Reacher to become part of the witness's protective detail against an unknown assassin. The case is complicated by riots at the newly installed prison and mysterious dealings in an abandoned military building just outside of town. During all this, a clock is ticking down from 61 hours to an explosive, cliff-hanging ending.
One of the reasons I love Child's books is the rocket-speed action. Here, it slows down as Reacher spends most of the 61 hours waiting in the witness's home for a showdown with the hitman. At first, I thought, "Come on! Knock some heads!" But as the book moves along, I realized the tradeoff is the lovely bond Reacher forms with the witness, a wise old woman who sees through his tough-guy exterior and asks him hard questions about the real reasons why he chooses a rootless life.
His relationship with the requisite Reacher babe, a woman who has his old army job as CO of the 110th Special Unit, takes on an entirely different nature than what we normally see him engage in. The CO eventually uncovers information about Reacher dating back to childhood. As she wonders, "Why was the army holding paper on a six-year-old kid?"
In the end, Reacher does kick a little ass (literally—you'll see when you read it) after experiencing a moment of vulnerability that scared me a little (Reacher can NOT doubt himself!). This just means, though, there's still a lot left to learn about him, a good thing in a long-running series.
Nerd verdict: Reacher is changed in Hours
Pre-order 61 Hours from Amazon

Buy from Indie Bookstores
(I get a tiny commission if you buy from Amazon.)