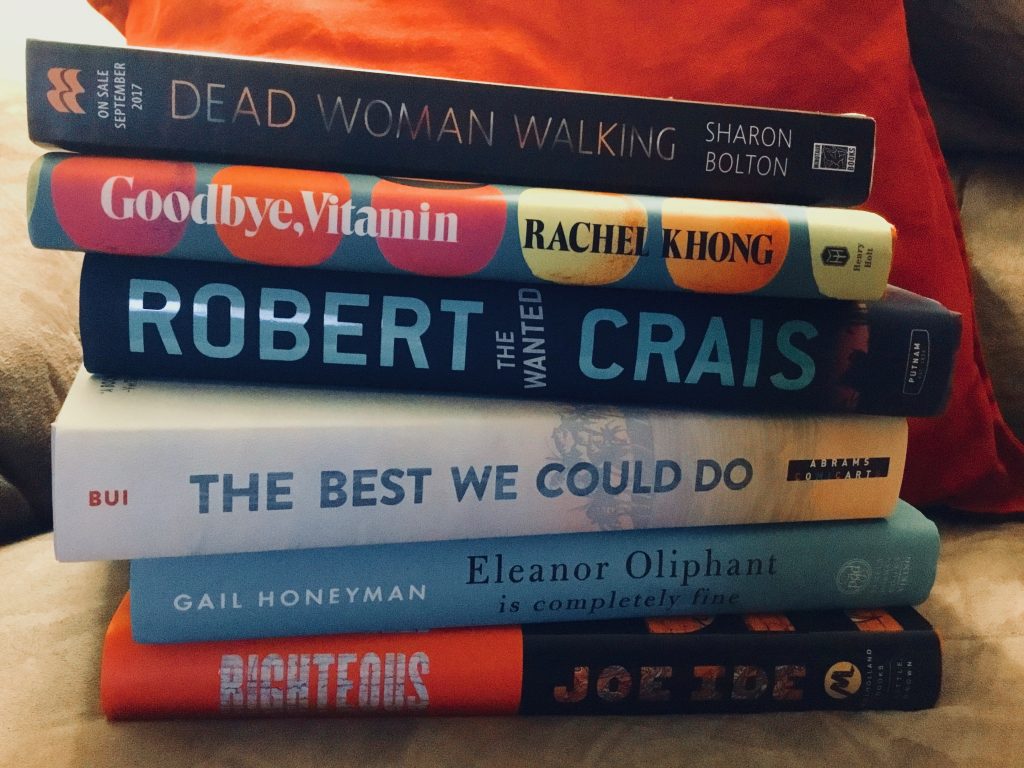 Though 2017 has been in the rearview mirror for almost a month, with skid marks I left on my way out, I wanted to look back to review my reading stats. Last year was rich for me in terms of reading, with mid-June through mid-July being my best period, when I had four 5-star reads. I've gone years without one 5-star read, so that many in one month was fantastic.
Excluding all the manuscripts I edited, my number of books read is 65.
Some random stats, because I'm a nerd.
Debut authors: 20
New-to-me authors: 18
Female authors: 41
Male authors: 24
Writers of color: 8
International authors: 20
Imprint I read the most: William Morrow (7), runner-up: Minotaur (5)
Total imprints: 33 (I was pleasantly surprised to see my reads spread across so many different publishers)
Below are my favorites in various categories.
Favorite debuts: Rachel Khong's Goodbye, Vitamin and Gail Honeyman's Elinor Oliphant is Completely Fine
Favorite novel from new-to-me author: Adam Sternbergh's The Blinds
Most welcome return of series characters: tie between Robert Crais's Elvis & Joe in The Wanted and Joe Ide's Isaiah & Dodson in Righteous
Favorite illustrated memoir: Thi Bui's The Best We Could Do
Favorite celebrity memoir: Gabrielle Union's We're Going to Need More Wine
Favorite new heroines: Sheena Kamal's Nora Watts in The Lost Ones and Kathleen Kent's Betty Rhyzyk in The Dime. The common denominator? Fierceness.
Favorite international thriller: Mark Mills's Where Dead Men Meet
Favorite overall: Sharon Bolton's Dead Woman Walking 
What are some of your stats from last year? Share them in the comments!