My parents recently asked if they can come visit, which is a happy thing, but then I thought, "Uh oh, where will I put them?" Because my den has been completely overrun by books. Books in piles, on shelves, serving as furniture, crammed into drawers and stacked on the guest bed. So I locked myself in there, crawled among my books, getting paper cuts in weird places but determined to read until I can at least see the bed cover.
Perhaps you'll find something interesting among what I managed to finish so far.
The Stormchasers by Jenna Blum
Storms are the new black because this is the third book in a row I've read that features them. In Sophie Littlefield's A Bad Day for Pretty, a tornado uncovers a dead body at the beginning of the book; in Michael Koryta's So Cold the River, the story builds up to a climactic storm; but in this novel, storms are at the heart of the story, not just literally but metaphorically.
Karena hasn't seen her twin brother, Charles, in twenty years when she receives a phone call from a clinic in Kansas saying he'd just checked into a psychiatric facility. By the time she arrives from Minnesota, he's gone from the hospital. She joins a tour with a professional storm-chasing company, hoping to track him down because Charles is a gifted storm chaser. He's also bipolar and often a danger to himself and others. He and Karena share a terrible secret, something that happened on a chase twenty years ago, the resulting burden partly responsible for their estrangement.
Blum spins a fascinating tale with an impressive knowledge of the different kinds of storms, getting the lingo and details down, but it's her descriptions of bipolar disorder, an electrical storm inside the brain, that are most riveting. Any reader who has ever known anyone with this disorder will recognize how authentic Charles's behavior is. When he's having a good day, he's kind, loving, charismatic; when he's manic, he's a nightmare. Charles doesn't take his meds because of the horrific side effects, creating the central dilemma: "Either Charles takes his medication and suffers, or he doesn't and everyone else does."
That's what Karena does—suffer—but it's the reason she's a sympathetic character. At the beginning, she does a couple things during a chase that are incredibly stupid and dangerous but as I learned more about her motivation and love for Charles despite all he has put her through, I forgave her and wanted to hug her instead. There is no cure for bipolarity but the end implies Karena and her brother might experience calmer skies ahead. Nerd verdict: Electrifying, raw Stormchasers.
Buy The Stormchasers from Amazon

Buy from Barnes & Noble
Buy from IndieBound
The Devil and Sherlock Holmes: Tales of Murder, Madness and Obsession by David Grann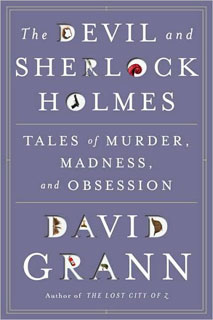 Every once in a while, I like to read non-fiction books so I can feel smarter. They not only tell me a story, they teach me facts! Grann's book is a collection of previously published essays about, well, those topics in the subtitle. The first, "Mysterious Circumstances," deals with the death of the world's premier Sherlock Holmes scholar, Richard Green. He's found garroted in his home shortly after he alleged that the priceless papers from Arthur Conan Doyle's archives which turned up at Christie's for auction in 2004 were stolen. The police find no signs of forced entry and rule the death a suicide, but certain details—e.g. no note, Green's telling friends he feared for his life days before dying—leave many questions unanswered, resulting in a speculative conclusion that, if true, makes for quite a Holmesian twist.
The second essay, "Trial by Fire," about a man on death row for murdering his three toddler-aged children by setting his house on fire with them inside, details a race against the clock to save him from execution with compelling new evidence of his innocence. Todd Willingham maintained he had no idea how the fire started; he was also inside and asleep at the time but got out without being able to save his babies. Grann includes facts from studies by a noted scientist and fire investigator who was able to debunk all the alleged arson indicators found at the scene. Dr. Gerald Hurst's reports made me doubt everything I've read in other books or seen in movies about arson markers, and the ending kicked me right in the throat.
There are several other strong stories, tales that are truly stranger than fiction, and some which aren't so engaging. Overall, I was impressed by Grann's access to sources and information and his willingness to put himself in hair-raising situations to get the story. He methodically lays out his facts and sometimes makes you feel almost as smart as the titular detective. Nerd verdict: Uneven Tales but some are Devilishly good.
Buy The Devil and Sherlock Holmes from Amazon

Buy from Barnes & Noble
Buy from Indie Bookstores
The Seven Year Bitch by Jennifer Belle
Isolde "Izzy" Brilliant is a recently laid off financial analyst who's trying to figure out her next move. She has a toddler and a husband who's becoming increasingly annoying to her. The guy who got away years earlier conveniently resurfaces in all his rich and handsome glory, enticing her with offers of romantic, exotic trips. Izzy vacillates between her patch of lawn and eyeing the grass on the other side before discovering her perfect place and the life she truly wants.
Yes, the synopsis is thin because the story is more Izzy's personal journey than plot driven, but boy, is that journey hilarious. I laughed out loud quite a few times, not just chuckles but actual guffaws. A lot of the humor is R-rated and politically incorrect but here's a sample I can reprint of Izzy interviewing potential nannies:
The first nanny showed up right on time and took her seat across from me…I asked her my first question: "Do you cook?"

"You want me to cook!" she said, making her eyes so wide it was as if I had asked her to take off her blouse. I crossed her off the list.

I crossed the next two off my list right away because one brought her baby with her to the interview and the other had long, decorated nails with pastel stripes.

"You speak excellent English!" I told one enthusiastically.

"I'm from Trinidad," she said.

"Yes, but your English is excellent," I said, nodding my head like a crazy person.

"We only speak English there." She looked at me with unmasked disgust. I crossed her off my list.

One had an almost contagious case of mush mouth. "Yesh, yesh, thatch nicesh," was her answer to all my questions. I croshed her off my lisht.
You may think Izzy doesn't have reason to complain, with her cushy life and NYC pad, but the right to be dissatisfied with one's situation doesn't belong exclusively to the unprivileged. Ennui can affect anyone and at least Izzy processes hers with a large dose of humor. Nerd verdict: Funny Bitch.
Buy The Seven Year Bitch from Amazon

Buy from Barnes & Noble
Buy from Indie Bookstores
Following Polly by Karen Bergreen (out June 22)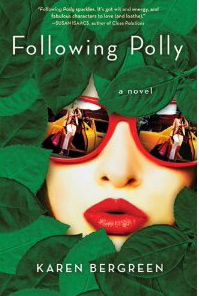 After being fired from her job as a casting director's assistant, Alice Teakle becomes obsessed with a former acquaintance from Harvard who seems to have the perfect life. Alice follows Polly all over NYC, hoping to discover her secrets to success so maybe Alice can have a taste of it, too. When Polly ends up being viciously murdered, Alice becomes suspect number one. She manages to elude police and seeks out the help of her unrequited college crush, Charlie (though that's not his real name), to find the real killer and clear her name.
Though the Publishers Weekly blurb on the jacket says, "It's like Comedy Central picked up Law & Order for an episode," the humor is mild and the mystery isn't that gritty. The story is more about Alice growing up and finding her way (when her therapist asks her at the beginning of the book what her dream is, she realizes doesn't have one). Alice is a pleasant enough protagonist and I enjoyed her relationship with Charlie, who lets her hide out in his apartment and is quite a prince.
I might have liked the book more if it weren't for a repeated distraction—the author's overuse of the word "that." Example: "I'll tell him that I've always loved him, and he'll tell me that he knew there was someone right under his nose, and that it wasn't until he found me going through his garbage that he knew that I was that someone." Out of six "that"s in that sentence, only two—"that" #4 and the last one—are needed. I know this makes me sound super picky but it disrupted the rhythm in Bergreen's writing and happened so often, I couldn't ignore it. Nerd verdict: Slight Following.
Buy Following Polly from Amazon

Buy from Barnes & Noble
Buy from Indie Bookstores
What did you finish this weekend? What are you reading now?