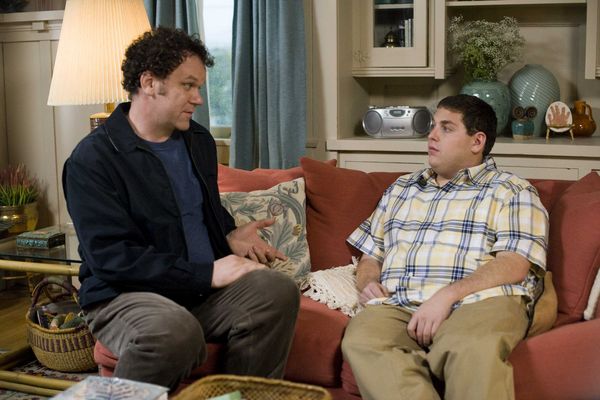 I usually find Jonah Hill obnoxious in the roles he's played but he surprised me in Cyrus, the indie film written and directed by brothers Jay and Mark Duplass (limited release, June 18). Hill plays the title character, a son in arrested development who lives with his mama (Marisa Tomei) and loves her just a little too much. When John (John C. Reilly) starts dating Molly and the relationship quickly turns serious, Cyrus launches a passive-aggressive attack—passive and needier than ever with Mom, escalating war when he's alone with John. What results is a lesson for all parties involved in knowing when to let go and when to fight for something.
Hill is the revelation here. Shorn of his big hair, he's lowered his usual manic energy to a stillness and fake politeness that makes him a disturbing opponent, a barely contained nutjob you keep waiting to go off the deep end. When Molly is in the room, Cyrus turns on big innocent eyes a la Puss in Boots in the Shrek movies, but then gives John the finger and mouths profanities at him behind Mom's back. Cyrus's nastiness isn't surprising if you've seen Hill in movies like Superbad, but the actor also displays a vulnerable side here that suggests he's got solid dramatic chops.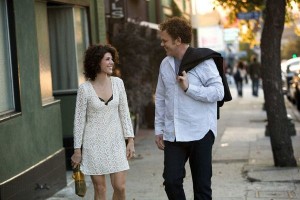 Reilly turns in masterful work as usual, making us believe a schlub like him could actually land a sexy woman like Tomei ("I'm like Shrek. What are you doing in the forest with Shrek?"). John is too raw and honest for most humans but we can see why he's endearing to Molly, who's way past falling for guys who play games. Tomei once again proves her long-ago Oscar is not a fluke, imbuing Molly with a wariness that makes her believable as someone unlucky in love despite her obvious physical gifts.
Though Oedipal tones and wrongness abound, the uncomfortable situations give rise to quite a few laughs. Is it wrong for Cyrus to wrestle with his mother? Did she breastfeed him for wayyy too long? It sounds absurd but the Duplass brothers keep the story grounded in these three lonely people's need for love and prevent the movie from spinning into ridiculousness. The ending feels a little too pat but after all the weirdness, I was ready for these characters to have a little hope.
Nerd verdict: Sweet, funny Cyrus
Photos: Chuck Zlotnick