On Friday, I saw Toy Story 3 in 3D (it made $109M over the weekend). You've probably seen or heard a lot about it by now so I don't need to go into detail. I'll just say, yes, I cried. It reminded me of Christopher Robin telling Pooh he has to leave 100 Acre Wood: "I'm not going to do Nothing any more." Pooh asks, "Never again?" and Christopher Robin says, "Well, not so much. They don't let you." Then he asks, "Pooh, whatever happens, you will understand, won't you?" And "Action!" on the tears streaming down my face.
That's pretty much what happens in TS3, as the toys come to terms with Andy going away to college and their losing relevance in his life. Their little CGI faces, especially during a pretty disturbing scene where they hold hands and accept their fate, express more emotional depth than some human actors can muster (*cough, Nicolas Cage, cough*). Saying good-bye to our childhood is hard but if we haven't done it, we wouldn't be able to fully appreciate the beauty of this movie. Nerd verdict: Moving Story.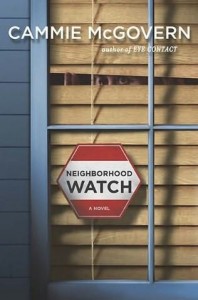 Saturday morning, I finished Cammie McGovern's new novel, Neighborhood Watch, after having started it Friday afternoon. It reads like Desperate Housewives, with polite, attractive people living on a bucolic street named after a shrub, hiding secrets in their basements and occasionally committing murder. Betsy Treading, dubbed the Librarian Murderess, is released after being falsely convicted and spending twelve years in prison for killing her neighbor, Linda Sue (not sure about her last name since it says Murphy on the dust jacket but she's referred to as Linda Sue Nelson in the book). Betsy moves back to Juniper Lane, staying with a friend and looking for the real killer before she can move on.
McGovern has a subtle way of divulging the characters' secrets that's quite seductive. Instead of one big revelation, she leaks little tidbits in each chapter, making it seem almost accidental that the information slipped out at all until you realize somewhere near the end you have all the pieces. Many of the characters are flawed but sympathetic and Betsy makes an effective heroine, most touching when she finds a surprisingly tender relationship in an unexpected place. Nerd verdict: Engrossing Watch.
My favorite nerd experience this weekend was seeing the dynamic duo of Juliet Blackwell and Sophie Littlefield at their Mystery Bookstore joint signing in Westwood. Blogger extraordinaire le0pard13 also showed up with his lovely daughter and her friend and I had the pleasure of meeting both.
Sophie read from Juliet's A Cast-Off Coven, the second in her Witchcraft Mystery series about Lily Ivory, while Juliet read from Sophie's A Bad Day for Pretty, the second adventure featuring the kick-ass Stella Hardesty. (Sophie revealed the tentative titles for the next two Stella books but I'll await her permission before blabbing.) These are smart books by amazing women so if you haven't read them yet, you should immediately consider doing so before Stella comes looking for you with her bondage kit and/or Lily throws some black magic your way.
After the signing, which I survived without getting yelled at for climbing on furniture (thank you, Linda!), I got to dine with Sophie, Juliet and three other writers, Paul Levine, Sue Ann Jaffarian and Travis Richardson, all funny, fabulous people. Sophie and Juliet had promised pole dancing but I guess our hunger took precedence (author Stephen Blackmoore, who attended the signing, had also said he'd strip but chickened out last minute).
Dinner conversation included all sorts of interesting topics. Some were X-rated so I can't recount them here without illustrations but I'm just not good at finger painting. At one point, we did discuss the following question, which I'll end with, since it's Monday and you might feel the need to be armed:
If you were a ninja, which weapon would you have?
For the record, I'd carry a sword, throwing stars and a Kenny G CD. Hit the comments and let me know your weapon of choice!