This last week was a really good, busy one, in case any of you were worried I'd been snatched by bears. I did a commercial for Wells Fargo, finished a couple editing jobs, and continued rehearsals for the play I'm doing, which opens next month. We had our first run-through this past Saturday, and it gave me chills. I'll post details soon regarding performance schedule. If you're in the L.A. area, I'd love to see you there.
I'll also be speaking on a panel about eBooks and e-publishing this Saturday, August 24, at the V3con Digital Media Conference at the Japanese American National Museum. The panel will be moderated by Edgar-winning author Naomi Hirahara and is scheduled for 4 p.m. in the Red Room.
OK, let's move on to giveaway business. Before I get to the next one, I'd like to announce the winners of galleys of Jussi Adler-Olsen's The Absent One (out Tuesday, Aug. 21, from Dutton):
Please fill out this contact form with your address so I can forward it to the publisher, who will ship the galleys to you directly.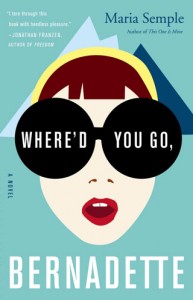 This next book I'm giving away is something I'm enjoying right now. Maria Semple's Where'd You Go, Bernadette is quirky and witty, but it's becoming evident (I'm on p. 79) that something darker will be revealed later. My review will hopefully be posted soon (update: it's up), but in the meantime, I'm excited to help get it into your hands.
Two finished copies are up for grabs. Here's a description:
Bernadette Fox is notorious. To her Microsoft-guru husband, she's a fearlessly opinionated partner; to fellow private-school mothers in Seattle, she's a disgrace; to design mavens, she's a revolutionary architect, and to 15-year-old Bee, she is a best friend and, simply, Mom.

Then Bernadette disappears. It began when Bee aced her report card and claimed her promised reward: a family trip to Antarctica. But Bernadette's intensifying allergy to Seattle–and people in general–has made her so agoraphobic that a virtual assistant in India now runs her most basic errands. A trip to the end of the earth is problematic.

To find her mother, Bee compiles email messages, official documents, secret correspondence—creating a compulsively readable and touching novel about misplaced genius and a mother and daughter's role in an absurd world.
Watch the funny trailer here, listen to an audio excerpt here, and go to the author's charming website for more info.
To enter, leave a comment about the most impossible journey you've ever taken. It could be to a far-flung location that's difficult to access, or just a road trip in a clown car with your in-laws that you didn't think you'd survive. Contest ends next Monday, August 27 at 9 p.m. PST. US/Canada residents only, no P.O. boxes. Winners will be randomly chosen and have 48 hours to claim prizes.