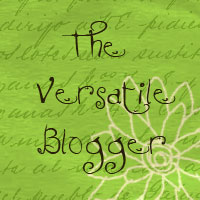 My friend le0pard13 from Lazy Thoughts from a Boomer just gave me the Versatile Blogger Award, which tickles me. When I was first learning English, I used to confuse "versatile" with "flexible," so I wondered for a second, "What does my flexibility have to do with my blogging?" but then I sorted myself out. Good thing, since this would've been really weird.
Apparently I can't accept this award without doing a bunch of things, the first being to thank the person who bestowed it on me. Thank you, Michael, for thinking I'm way cooler than I really am. I hope you will always be thus deceived.
Next, I have to reveal seven things about myself:
In fifth grade, I wore an eye patch to school for three days after a dodgeball hit me in the face and damaged my cornea.
I mangle idioms all the time. I can never seem to hit the nail in the jackpot. Oh, well. Half of one, six dozen chickens.
I've found that the easiest way to take down a large man who's coming at me is, yup, a hard kick in the nuts. Who needs fancy martial arts?
There are no baby pictures of me and no one can really remember what I looked like.
I once got a free pasta dinner at Universal Studios when the backlot caught on fire and restaurant staff told me to just take my food and run. I took the rolls, too.
I know sign language and can sign most Madonna songs.
Assholes make me want to kick them in the nuts.
Now I'm supposed to give this to 15 other bloggers but le0pard13 hoarded all my blogger friends on his list so I have none left. Darn. Guess I'm a day late and need two dollars more.