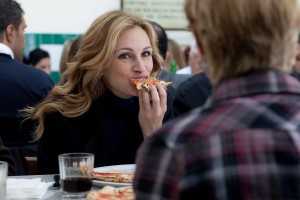 I went into a screening of Eat Pray Love on an empty stomach, which was foolish because it growled in protest every time Julia Roberts took a bite of luscious pasta, cheese-oozing pizza or moist-looking turkey. By the time the movie ended, though, I realized it wasn't just a feast for my eyes but an emotionally fulfilling experience as well.
Since Elizabeth Gilbert's memoir sold a bazillion copies worldwide, I'll assume you've either read or have heard of it. If not, here's a quick rundown: Gilbert, a thirtysomething writer, realizes she's unhappy in her marriage, gets divorced and decides to devote a year to finding herself by traveling first to Italy (eating without counting calories), then India (praying and meditating) and Bali (learning to love again). She tells stories about the people she met along the way, her struggles to feel connected to something, and her eventual enlightenment.
The book is funnier than the movie because the former has a lot more of Gilbert's voice and she often made fun of herself. Director/co-writer (with Jennifer Salt) Ryan Murphy's adaptation contains some voiceover narration but has a more melancholy feel while retaining Gilbert's warmth and spirit. The locations are lushly captured by Robert Richardson and the score by Dario Marianelli is evocative of each country Gilbert visits.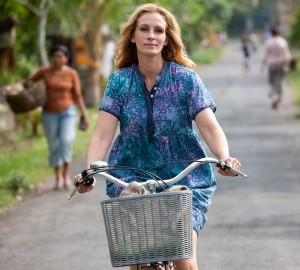 Roberts turns in a deeply affecting portrayal of a woman in transition. Her face is luminous and transparent, with every emotion clearly visible even when she tries to suppress them. In a scene when Felipe (Javier Bardem), the man she meets in Bali, confronts her about her feelings for him, Roberts's eyes reveal pure terror at the realization she might be falling for him, something she wasn't prepared for. She stands there speechless for a moment, tamping down the panic, but it's all there and I felt it in my chest. This performance is less flashy but more full-bodied than the one of Erin Brockovich (it seems she does her best work playing real women) and deserves another Oscar nomination.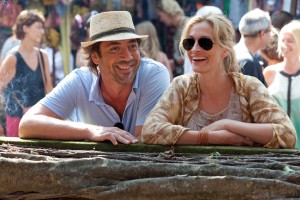 Bardem, though way too young to play Felipe, has the necessary charisma to break Gilbert out of her self-imposed celibacy. He's not conventionally handsome, with bulging eyes that can be unsettling as we saw in No Country for Old Men, but he can also make those eyes seductive as he does here. His Felipe is a sweet romantic who doesn't come on too strong, his breezy banter not quite covering the emotional scars from his own divorce.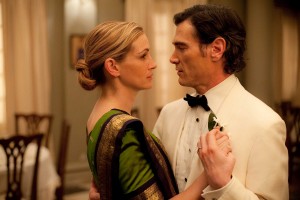 Other supporting roles are filled by rock-solid actors like James Franco as Gilbert's young boyfriend David, Richard Jenkins as Richard from Texas (who died earlier this year; he answered a few questions for me last year about the movie and later asked if I knew how he could get a cameo), Viola Davis as Gilbert's friend Delia, and Hadi Subiyanto, a real find as the Balinese medicine man Ketut. Billy Crudup moved me as Gilbert's ex-husband, Stephen, a decent man who loves her and doesn't understand why she no longer reciprocates. Some of the complaints I heard about the book were about how Gilbert seems selfish for giving up a husband for no obvious reasons but that's one of the things I appreciated about her story. Gilbert refused to paint him as a jerk and Crudup follows her lead. Sometimes two people just aren't compatible. Leaving a monster is an easy decision; it's much scarier to walk away from a good person wondering if you did the right thing.
The movie runs about 2:15 but the length is justified, giving Gilbert a chance to absorb each country she visits and allowing us to do the same. I enjoyed the vicarious journey and never once looked at my watch, which means I must've learned something from Gilbert: how to stay present.
Nerd verdict: Go See Love
Photos © Columbia Pictures