Every summer, Hollywood rolls out loud, explosive blockbusters and this past season was no exception. Most of them were duds, though—Prince of Persia, anyone? Maybe that's why we had to wait until fall for Red (out October 15) because this is no dumb action movie. Based on graphic novels by Warren Ellis and Cully Hamner, the thriller is a rollicking good time, a shoot-'em-up that works because someone was smart enough to cram it not only with fun action pieces but talented and charismatic actors, too (sorry, Jake Gyllenhaal doesn't do it for me).
Bruce Willis stars as Frank Moses, a Retired, Extremely Dangerous former CIA agent whose biggest thrill nowadays comes from flirting with Sarah, the telephone rep (Mary-Louise Parker) in charge of sending him his government checks. He decides one day to travel to Kansas to see her in person but before he can get there, something happens which forces Moses to kidnap Sarah and take her on the run. It soon becomes clear someone is out to assassinate him and other R.E.D. agents. They reunite to face the threat head-on and make their attackers regret they started the fight.
I skipped Willis's recent flops—Cop Out, Surrogates, etc.—wondering if he's still got what it takes to anchor a decent flick. He settled this issue quickly, turning in an effective performance as Moses, former Marine and highly competent field agent. It's been over two decades since he was anointed an action star in Die Hard but Willis can still pull off the badassness. The movie even addresses the age issue when Willis has a confrontation with a young agent played by Karl Urban, who makes cracks about Moses's age until Moses shows him who's boss.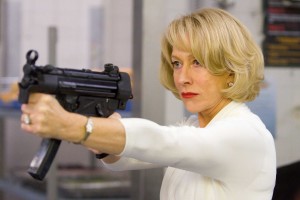 The other R.E.D. agents are portrayed by Helen Mirren, Morgan Freeman, and John Malkovich, looking like they're having a blast. It's great fun to see Mirren decked out in an elegant gown then whip out a massive machine gun and just go to town. (There are more flying bullets fly in this movie than shoppers at a Wal-Mart on Black Friday.) Malkovich plays yet another loony-tunes character but the man can't help it if he does it so well. Urban, who left no impression on me whatsoever as the young Bones in last year's Star Trek or as Eomer in the Lord of the Rings movies, finally made me sit up and notice his intense Agent Cooper.
Director Robert Schwentke may have stumbled with his adaptation of Audrey Niffenegger's The Time Traveler's Wife, but he seems to have found source material with a much better fit this time around.
Nerd verdict: You'll like seeing Red
Photos © Summit Entertainment