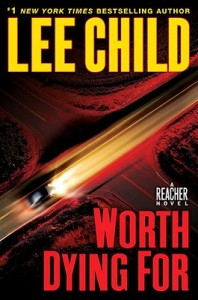 In Worth Dying For (Delacorte, Oct. 19), Jack Reacher is making his way to Virginia to hopefully meet the woman with the sexy voice with whom he spent much of 61 Hours conversing on the phone. But a driver who gives him a ride drops him off in Nebraska where Reacher intends to spend only one night at the sole motel in a desolate town.
His plans change when he runs into a drunk doctor at the motel bar and offers to drive the man to a patient's house to treat a broken nose. When Reacher realizes how the woman's nose got broken, he tracks down the husband to teach him a lesson. This gets him embroiled in a power struggle between the townspeople and the nasty family of four men who control almost every aspect of the residents' livelihood. When the fight is over, as Reacher says, "some will be dead, some will be sheepish, some will have self respect."
You'd think that by this time, the fifteenth book in the series, Reacher has seen and experienced everything. But something happens to him in this installment that has never happened to him before. And boy, is he not happy about it. He kicks butt a plenty and engages in some spectacular fight scenes but we also see him in pain. There's a sense that the wear and tear of his exploits are catching up to him but this only humanizes him. At one point, he even frets if his roughed-up appearance would be acceptable to Susan, the woman he's traveling across the country to meet. I can't remember any instances in the other novels where he worried about his looks.
The situation Reacher gets entangled in carries more emotional resonance than some of his previous cases. The locals have long been beaten down by their hard lives but Reacher lights a spark that restores their fighting spirit. One resident in particular, Dorothy Coe, has such a heartbreaking story, it demands the kind of justice Reacher excels in doling out.
Nerd verdict: Worth the price
Buy Worth Dying For from Amazon
| B&N| IndieBound| Powell's
Note: I'm heading up to Bouchercon so I'll be back next week with a report on all the hijinks!