A movie that's opening against Harry Potter and the Deathly Hallows: Part 1 had better have the muscle and legs to stand up to it. It probably wouldn't hurt to also have some magic dust thrown in to help its chances at the box office. The Next Three Days (opening Nov. 19) doesn't have all those ingredients, but it is a smart if overly long crime drama and it has Russell Crowe.
Adapted from the French film Pour Elle (Anything for Her), Days tells the story of John (Crowe) and Lara Brennan (Elizabeth Banks), an idyllic couple with a cute young son and a nice house in the suburbs. One day, the cops burst in and arrest Lara for the murder of her boss, something she maintains she didn't do despite damning evidence. For the next three years, every legal channel is explored and every appeal denied. John then decides without Lara's knowledge that the only solution is to break her out.
He consults with an ex-con who's escaped from prison several times (Liam Neeson), he searches for security weaknesses, and does shady things to raise cash for fake IDs for them to start over afterward. There are dozens of ways the plan can go wrong, making us wonder if the mild-mannered teacher has what it takes to pull off the great escape.
As with writer/director Paul Haggis's other movies (Crash, In the Valley of Elah), the script is intelligent but almost indulgently so. Haggis has a lot to say and says it well, but then he keeps saying it instead of moving on. It's interesting to watch John's thought process as he plans the prison break but the movie starts to drag as Haggis spends time on every little detail of John's strategy. I get that he needs to proceed carefully and not rush into a suicide mission, but I also didn't want the planning phase of the movie to last three days in real time. Once the main event does arrive, Days kicks into hyperdrive and becomes a thrilling ride which includes a gasp-inducing stunt between an SUV and a semi truck.
Crowe's performance is sturdy but isn't that stating the obvious? When does this man ever do crappy work? He makes a believable transition from Average Joe to a hard man pushed to desperate measures. Banks continues to show she can move effortlessly between comedy and drama. She gives Lara a convincing steeliness as she spends more time in prison, her future looking bleaker every day. And her hair may be drab and her face devoid of makeup but the actress still looks beautiful.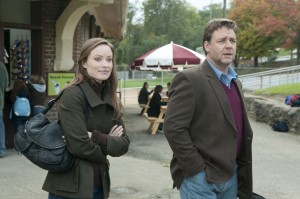 Lots of strong actors make up the supporting cast but they get to do very little. Olivia Wilde shows up as a mom who kinda digs John after meeting him on the playground with their respective kids. Brian Dennehy plays John's dad but spoke only five times. Neeson has only one scene, though his character helps John get the whole ball rolling. Haggis seems to want to stuff every good thing he can find into his movies when a stricter editing hand might have been the better plan to follow.
Nerd verdict: Days sags in middle but finishes strong

Photos: Phil Caruso