When The Fighter (opening Dec. 10) had its world premiere at the AFI Fest presented by Audi, Mark Wahlberg introduced the film and said if anyone didn't like it, "I will personally come to your house and give you back the two hours you spent watching it. I'll cook, clean, move shit!" I don't think he'll get too many phone calls from people asking him to do yard work unless they just want an excuse to see him with his shirt off.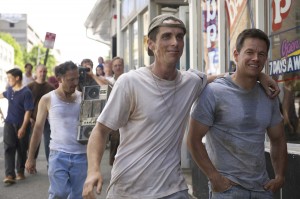 The movie, which the actor produced as well as stars in, is based on the true story of underdog boxer "Irish" Micky Ward's (Wahlberg) unlikely journey towards an eventual world championship. He's trained by his half-brother, Dickie Eklund (Christian Bale), who once fought Sugar Ray Leonard and knocked him down, which makes Dickie a local celebrity in their hometown of Lowell, Massachusetts. But Dickie has turned into a crackhead and become unreliable, often not showing up for training. He also thinks he's being filmed for an HBO show about his making a comeback but it's actually a documentary about crack users.
Micky's situation isn't helped by his mother/manager, Alice (Melissa Leo), who seems to only set him up to lose. He starts making smarter decisions after meeting Charlene (Amy Adams), a waitress at a local bar who becomes his girlfriend and encourages him to distance himself from his family if he wants a shot at the title.
While the movie is well-directed by David O. Russell and handled beautifully by the cast, it doesn't add anything new to the underdog boxing movie sub-genre. It follows the basic structure of so many others, e.g. Cinderella Man or Rocky, though it isn't as bloody, which I appreciated.
The Fighter does have a couple of knockout performances from Bale and Leo. The former is almost unrecognizable with sunken eyes, bad teeth, and bald spot on a skeletal frame. At first I wasn't sure whether he was trying too hard by piling on the tics and drastic changes in his appearance, but when a clip of the real Dickie played at the end of the movie, I realized Bale was dead-on.
Leo is like we've never seen her, leaving behind the mousy brunettes she usually plays with brassy blond hair that's bigger than Taylor Swift's career and a wardrobe cheaper than Walmart specials on Black Friday. Alice has no business managing Micky's career but Leo doesn't make her an obvious villain, leaving us to decide instead whether Alice is simply inept or truly greedy and spotlight hungry. Adams is also spunkier than usual as Charlene, showing she's not all Disney-princess innocent, at one point even getting into a fist fight. The film's chances at snagging Oscar acting nominations are good but I don't see it winning the Best Picture title.
Note: To watch the real HBO documentary called High on Crack Street: Lost Lives in Lowell that features Dickie and is mentioned in the movie, click here.
Nerd verdict: Scrappy Fighter but not quite a champion
Mark Wahlberg AFI photo © AFI/The Fighter photos © Paramount Pictures