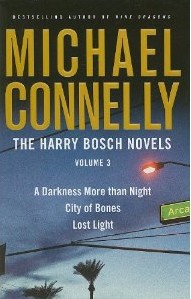 Thanks to Hachette Book Group, I'm giving away three copies of this new omnibus which includes three complete Harry Bosch novels: A Darkness More than Night, City of Bones, and Lost Light. Perhaps you already have individual copies of the books but they're in paperback and are getting tattered. Or you know someone who only recently discovered Connelly's work and doesn't have these titles yet. Either way, this is a handsome hardcover edition to add to your or some lucky person's collection.
Speaking of giving, I'd like to try something this season which was inspired by what the folks over at Concord Free Press are doing, which is giving away the books they publish and only asking that you consider making a charitable donation in return. I don't publish anything but would like you to think about giving a small amount to your favorite charity if you win one of these books. When I say small, I mean $5 or $10 or some canned goods for your local food drive. (Lest you think five bucks don't amount to much, my local soup kitchen says $2 will feed 3 people for Thanksgiving.) How about donating some of your used books to the library? That won't cost anything at all. You'd come out on top since the omnibus retails for $21.99.
I want to be clear this is completely optional. If you win and make no donation, it's perfectly fine and I won't know about it anyway. No proof of good deed will be required before you get your prize (I'd love to hear, though, if you do donate something). This is simply my way to hopefully stimulate a little giving for the holidays.
So, back to the giveaway. To enter, leave a comment telling me what you're relentless about since Connelly has used that word often to describe Harry Bosch. It could be something big or small. I was once in New York City freezing my tail off during its coldest day in 85 years. I got this craving for chicken noodle soup and was relentless about finding it. For whatever reason, no restaurant was serving it that day, just split pea or lentil or cream of one thing or another. I jumped on and off the subway, ducking into different places until I found the perfect chicken noodle and it was worth it.
To be eligible, you also have to:
be a subscriber or Twitter follower (tell me which)
have U.S./Canada address (no P.O. boxes)
Giveaway ends next Monday, Nov. 22, 5 p.m. PST. Winners will be randomly selected then announced here and on Twitter. I won't be e-mailing you so please check back to see if you win. Alternate winner(s) will be chosen for any prize(s) not claimed within 48 hours.
Now, let's see how relentless you are!