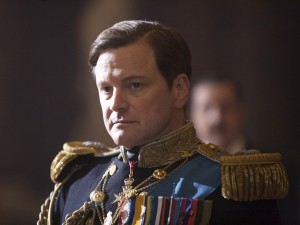 When I first heard a while back that Colin Firth had picked this as his next project, I thought, "Ugh." I'm not a big fan of historical drama and the description sounded so humorless and Oscar-baity. Does a story about a former king of England struggling with a stuttering problem seem exciting to anyone besides members of associations of speech pathologists?
Surprise—The King's Speech (which I saw at the tribute gala at the AFI Fest presented by Audi) turns out to be witty, moving, entertaining and extremely well-acted. Well, that last part is no surprise and I'd be cheesed-off if this doesn't get some Oscar love, especially for Firth, who turns in yet another pitch-perfect performance after last year's A Single Man and for whom I'm rooting to take home the gold.
Right before England goes to war with Germany in WWII, the frail King George V (Michael Gambon) is preparing his second son, Albert (Queen Elizabeth II's father), for the possibility of taking over the throne since he has little faith in his eldest, David, who's been gallivanting about with a twice-married American woman named Wallis Simpson. Albert has no interest in being king, however, since he has suffered from a stammering problem most of his life and public speaking terrifies him. His wife, Elizabeth (Helena Bonham Carter), refers him to a speech therapist, Lionel Logue, who has unconventional methods and isn't intimidated by royalty, as evidenced by his nickname for the prince: Bertie.
Though skeptical at first, because no other therapist has been able to cure him, Bertie nevertheless subjects himself to Lionel's unique exercises, including a rant consisting mostly of curse words since Lionel notices that the prince is almost stammer-free when he's impassioned. Meanwhile, King George V dies and David becomes King Edward VIII, only to abdicate so he can marry Simpson. Bertie is thrust onto the throne and takes the name King George VI to honor his father.
One of his first duties is to deliver a radio address to reassure his people, who are disheartened by news of England declaring war. Thinking the speech will be impossible, Bertie almost gives up his lessons until Lionel makes him see that he must believe in himself as much as the public needs to have faith in their new king.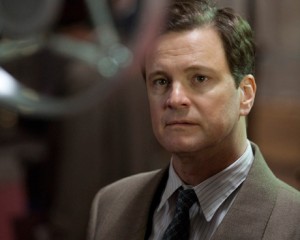 Hollywood wisdom (oxymoron, I know) goes that if an actor plays a character with a handicap, he/she's a shoe-in for award nominations. But it would cheapen Firth's work to say that's the reason for his nod, which is a sure thing at this point. While some actors think the trick is to play up the affliction, Firth goes the opposite way—he underplays it. It's not his realistic simulation of stuttering that's most impressive, it's what he does when he's not speaking. Every time King George stares down his enemy the microphone, Firth makes it look as if the king has a gun to his head, so great is his anguish. On the outside, he looks every bit the royal with his perfect posture and sharp jackets, but his eyes give him away as a man terrified he'll let down his people. As he touchingly says at one point, "They look to me to speak for them but I can't. I can't speak."
Rush matches Firth in every scene as the eccentric Lionel. Instead of playing it all Annie Sullivan-ish, Rush's Lionel is irreverent and witty yet stern when he needs to be. He sneaks up on the king, and us, in showing how effective a therapist Lionel is.
As Queen Elizabeth (the Queen Mother), Bonham Carter turns in a warm performance that's refreshingly low-key for her. You can see the real Queen Mum's gait and posture in how Bonham Carter carries herself. There's absolutely no trace of the off-the-charts crazy Bellatrix Lestrange here. (Speaking of Harry Potter characters, it's also fun to see Dumbledore/Gambon and Timothy "Wormtail" Spall, though he mugs so much as Winston Churchill I feared he'd pull a face muscle.) Jennifer Ehle shows up as Lionel's wife so for fangirls of BBC's Pride and Prejudice like me, it's thrilling to see a brief reunion of Elizabeth Bennet and Mr. Darcy, Firth's breakout role.
The AFI Fest gala for it was attended by Firth (that man can fill out a suit!), Rush, director Tom Hooper and screenwriter David Seidler. The men introduced the film and shared some interesting tidbits:
Seidler was a little stammering boy in England when he heard the real king's speech back in 1939. His mom pointed out that if the king could overcome his problem, so could Seidler.
After deciding to write a story about his lifelong inspiration, Seidler's research unearthed incredible materials including the king's journals. When he sought permission to make the film, however, the Queen Mother asked him not to make it in her lifetime since her memories of that time were still too painful. No one had any idea the queen would live so long.
Some of the funniest lines from the movie were written by King George VI himself because they were taken straight from his journals.
Rush got involved with the project first when the script was dropped off on his doorstep by the sister of a friend of the producer or something (he couldn't remember). They bypassed his agent, which Rush liked.
Firth was intimidated by playing the king. One of his biggest concerns was that he'd overdo the stammering since he wasn't sure what the right amount was. He was interested in portraying a man who just did not want the power given to him.
Nerd verdict: A princely King's Speech
Movie stills: The Weinstein Company/Firth at AFI: Getty Images