Since the Oscar nominations were announced at dark o'clock this morning, many articles have appeared griping about the snubs. I'm surprised, too, that certain frontrunners weren't nominated—Gillian Flynn being ignored for Gone Girl's screenplay is most confounding—but there were also some wonderful surprise nominations, which I'd rather discuss.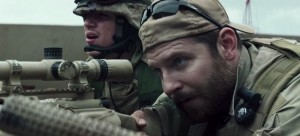 Though Bradley Cooper had been ignored by virtually all awards organizations, I was telling Mr. PCN last night I'd look for his name among best-actor nominees for his work in American Sniper. I think because his performance is subtle instead of showy, its award-worthiness wasn't obvious, but his underplaying of Chris Kyle's PTSD is what makes it so affecting and memorable.
I'm thrilled to see Marion Cotillard nominated for Two Days, One Night. Her performance as Sandra, a woman suffering from depression who has to go door to door begging her coworkers for their support so that she can get her job back, is painful to watch. The radiant actress completely disappears in the vanity-free role of a woman on the verge of giving up who slowly finds her strength again.
I whooped when I saw Laura Dern's name in the supporting actress category. She was the best thing in Wild and I couldn't understand why she'd been ignored by everyone else. So happy she made the Academy's list. Voters must've read my reviews for Sniper and Wild :). (Her mom, Diane Ladd, taking out full-page ads in the trades to implore voters to see and vote for Dern probably helped, too.)
In the documentary feature category, I was very heartened to see Rory Kennedy's Last Days in Vietnam. I am still talking about this movie with family and friends, and it'll be even more timely come April.
Probably my favorite song from any movie I saw last year was "Lost Stars" from Begin Again. I could not stop humming and singing that song for at least a week afterward. I guess it became an earworm for Academy voters, too, because it got a nomination for best song. Since both Adam Levine and Keira Knightley performed it in the movie, I hope they'll do a duet for the Oscars broadcast. Check out the video of Knightley singing it below. I thought her version was sweeter.
Which nominations were you most excited about? See the complete list here.