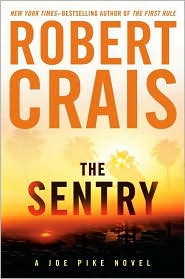 For the giveaway, I asked for creative versions of a Joe Pike pizza and you stepped up with some great concoctions. The first winner had the entry I thought best exemplified Joe's persona:
Hardtack crust? Meat from the Esox lucius ? I think Pike's mouth would twitch if you told him he had a pizza like that named after him. He wouldn't necessarily eat it but that's not the point.

The second winner's name was randomly drawn:
Though Patrick was randomly chosen, he also had a great entry. Love the gunpowder topping and the pizza being served with a vengeance.
Congrats to both! You get an ARC of The Sentry to wave in front of your friends' faces and brag on Facebook that you get to read it before it's released on January 11. But first, you must hit the "contact" button or the red envelope icon in the sidebar and let me know your address (no P.O. boxes). If I don't hear from you by Saturday Dec. 18 at noon PST, alternate winner(s) will be chosen.
If you didn't win, you can pre-order the book from the venues below (I belong to their affiliate programs).