I'm leaving town this weekend for the holidays and am hideously behind in everything. Someone reminded me today Christmas is next weekend and I gave her a blank face. Wha…?
Thus, in the interest of saving time so I can go hustle up a present for my first cousin's second son, I'll do only mini-reviews of five movies that are getting some awards attention this season. If you're planning on seeing any of these, consider this your cheat sheet.
Frankie & Alice (out now in Los Angeles)
Based on a true story, this is a nice showcase for Halle Berry playing a woman with multiple personality disorder but overall it feels more like a cable movie. Berry clearly delineates between Frankie's personalities—a genius child, a racist white Southern woman, and a black stripper—without getting too showy (except for one scene near the end). The movie takes place in the early 1970s when MPD wasn't widely understood, so the plot consists mostly of Frankie's psychiatrist, Dr. Oz (a sympathetic Stellan Skarsgard), trying to identify her illness. There's a small mystery regarding the traumatic event that caused her personality to splinter but the revelation is somewhat anticlimactic. Nerd verdict: More personalities than plot.
Rabbit Hole (opens Dec. 17, limited release)

Nicole Kidman does strong work as a fragile mom grieving for her little boy months after he was killed in an accident. Her pale, thin frame adds to the sense that her character Becca might collapse and never recover if she doesn't force herself to put one foot in front of the other every day. Dianne Wiest as Becca's mother is very good and Aaron Eckhart is solid as Becca's husband though this is Kidman's movie (she's one of the producers).
In a post-screening Q&A at the AFI Fest presented by Audi, director John Cameron Mitchell said that this movie is an exploration of the grief he felt after his brother was killed in a war and his family never talked about it. The tone is melancholy, with some bits of humor thrown in, but I was never deeply moved. I could appreciate the artistry of the work, though, and I like the very last line in the movie better than the one in the play (David Lindsay-Abaire wrote both) because it contains a slightly stronger hint of hope. Nerd verdict: Kidman's good but Hole didn't go deep enough for me.
Somewhere (Dec. 22, limited)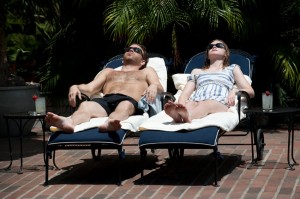 The only reason I could possibly see for this movie winning the Venice Film Festival's Golden Lion (its top award) was because it was partly shot in Italy. Otherwise, I'm stumped as to why jurors thought this dull exploration of the life of a movie star deserves such an accolade. Director/writer Sofia Coppola uses pretentious, long shots that call more attention to her technique than help tell the story. I'd understand if there's something captivating going on to justify a shot lasting forever but there usually isn't. When not making a movie, Johnny Marco (Stephen Dorff)'s life is aimless. He lives in the Chateau Marmont, plays Guitar Hero with his kid (Elle Fanning), suntans by the pool, hires strippers to come to his room. I couldn't tell who was more bored—him or me (probably me, since I was sitting in a theater instead of by the pool). Johnny eventually recognizes how empty his life is but by that time, I'd already checked out. Nerd verdict: I'd rather be anywhere than Somewhere.
Another Year (Dec. 29)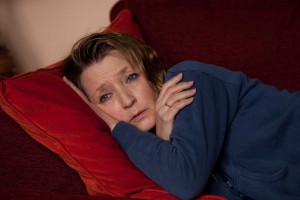 Mike Leigh's latest moved so slowly, I almost walked out. I figured I could get snacks, use the restroom, make some phone calls or just leave altogether without missing much. It's a character study of a content, middle-aged married couple at the center of a group of friends with unraveling lives. I can't complain about the acting; Lesley Manville completely steals the film, just as her needy character Mary sucks the energy out of every room she's in. But after umpteenth scenes of people sitting around drinking, smoking, and complaining about their depressing lives without much else happening, I wanted to jab a pen in my eye to distract from the pain in my brain. Nerd verdict: Felt like Year unfolded in real time.
Blue Valentine (opens Dec. 31, limited)
I'm so glad the MPAA recently reversed the rating from NC-17 to R because this movie will now have a chance at a wider audience. It didn't deserve the NC-17 anyway because the "offensive" scene doesn't even have nudity, only Williams simulating an orgasm while receiving oral sex. As director/co-writer Dean Cianfrance said in a post-screening discussion, the MPAA was "objecting to a feeling" and penalizing the actors for acting too well.
And that they do—Ryan Gosling and Michelle Williams give painfully naked performances as a couple who go from two dewy-eyed people in love to a husband and wife who may not be able to save their crumbling marriage. The movie is depressing as hell but you can't stop watching them. The actors are often shot in extreme close-ups so there's no faking any expression or emotion. Williams even gained weight for the latter part of the relationship (she did it during a one-month break in production) after her Cindy becomes a disillusioned wife and mother. The actress remains beautiful throughout but her bright blue eyes seem to lose their sparkle as she realizes her life is not turning out as planned. Nerd verdict: Blue contains red hot performances.
There you have it—my opinions on some titles you'll hear mentioned during upcoming awards shows. If you haven't seen them, here are my full reviews of How Do You Know, True Grit, and The Fighter.
This may be my final post for the year, depending on how productive I am in the next couple days and if I have Internet where I'm going. I'd like to wish you all a holiday season filled with joy, love and good health. Thank you for reading and coming along on my nerdy adventures for another year. You have enriched my world and certainly made it more fun.