I usually love me some Globes but last night while they were on, I was deep in HTML hell so my wrap-up will be a bit more succinct than usual. If you'd like a complete list of winners, go here. I'm just going to run down the moments that stood out for me.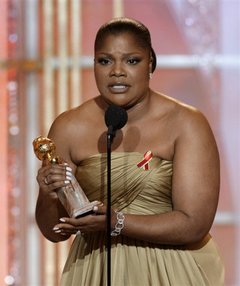 Best She-Cleans-Up-Well Award: Mo'Nique. I whooped with joy when my girl won for Precious, and then she moved me with her eloquent, heartfelt acceptance speech, a completely different kind from the terrifying one she makes in the movie to the social worker.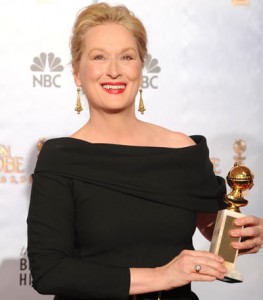 Least in Need of Airbrushing: Meryl Streep. Did you see her skin?! Whatever she's using, I want several buckets of. She was so glowy, if the lights had gone out, she would have been the only person in the room you could still see clearly.
Best Sense of Humor about Himself: Mel Gibson. Ricky Gervais introduced him by saying, "I like a drink as much as the next man…unless that man's Mel Gibson!" Then Gibson proceeded to play along by slurring his words as he presented the award for best director.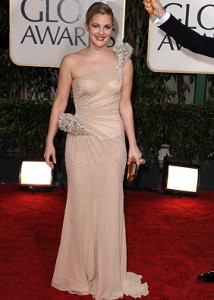 Most Disturbing Dresses That Were Actually Half Gorgeous: Drew Barrymore's and Christina Aguilera. Barrymore looked radiant (she won her first Globe!) but I could not take my eyes off those lumps on her shoulder and hip. They looked like baby porcupines that had fallen into jars of glitter. Aguilera looked good, too, but her two-toned dress made it look as if she forgot to tuck her right boob back in after she breast-fed her child. And speaking of breasts…
B(r)e(a)st Smackdown: Halle Berry vs. Mariah Carey. These two ladies wore plunging necklines that showed most of their womanhood to the world. But while Berry managed to look sexy, Carey just looked cheap and porny. Put them away, Mariah. They're not that precious.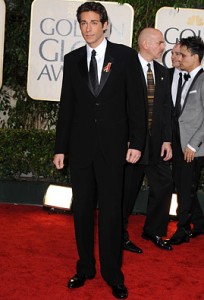 Most Handsome Nerd: Dude, Zachary Levi was smokin' in his tan and tux! If he keeps that up, who's going to buy him as a nerd on Chuck anymore?
Biggest Failed Attempt at a Clever Speech: Robert Downey Jr. I'm not happy about that; I'm crazy about him as an actor. But when he won for Sherlock Holmes (what the…?) and pretended he wasn't going to thank anyone, he sounded like an ass instead of charming and funny the way George Clooney and Hugh Grant did when they pulled the same stunt in the past.
Hottest Train Holder: Jon Hamm. During the red carpet arrivals, Jennifer Garner had a problem with her train. As she struggled with it, Hamm came along and gallantly held it up for her.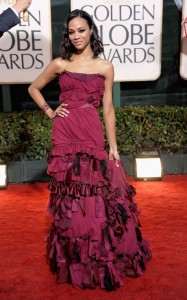 Best Dress: Zoe Saldana's gorgeous red ruffled gown. I'm not usually a girly girl but took one look at that and thought, "Oooh, pretttttty." Louis Vutton knew how to do ruffles, unlike the designers of the Chloe Sevigny's and Anna Kendrick's dresses.
Best Put-Together: Jennifer Garner. Despite all the rain (even Heidi Klum had flat hair!), Garner was perfection from head to toe.
What did you like (or not) about the Globes? Who did you think was best dressed?