It blows my mind Thanksgiving is in a couple of weeks and Christmas is next month—I'm still wearing shorts!—but this is my favorite time of year so I say bring on the holidays. With time off, maybe we can catch up on eating reading.
To that end, here are the November books we recommend.
From Jen at Brown Dog Solutions:
Beasts of Extraordinary Circumstance by Ruth Emmie Lang (St. Martin's Press, November 7)

Ruth Emmie Lang's fictional realism debut is heartwarming and inspiring at a time when we could all use a little hope. Weylyn Grey is an orphan raised with wolves before re-integrating into the human realm.

Beasts of Extraordinary Circumstances tells his life story through the voices of those who were a part of his unusual life: a foster sister, a teacher, employers, a young boy and the love of his life. Lang has crafted a rich story with sparkling language, robust characters, and a fascinating plot. It's a story that will ignite a spark of magic inside each of its readers.

Garden of the Lost and Abandoned by Jessica Yu (Houghton Mifflin Harcourt, November 7)

Academy Award-winning documentary filmmaker Jessica Yu makes her book debut with a true story about an amazing woman making a difference in the lives of Ugandan children.

Gladys Kalibbala is a journalist who writes a weekly "Lost and Abandoned" column in Uganda's largest newspaper, trying to reunite homeless, orphaned children with their families. Gladys goes to extremes—most of the time at her own expense—to find relatives, provide medical assistance, education, and basic needs like food and clothes, and to let these children know someone cares. Gladys's compassion and selflessness make her a role model for us all, and Garden of the Lost and Abandoned is a fitting tribute to this beautiful human being.
From Rory at Fourth Street Review:
Future Home of the Living God by Louise Erdrich (Harper, November 14)

Cedar Hawk Songmaker is pregnant, living in a near post-apocalyptic world. Evolution is seemingly running backward, with the flora and fauna looking downright prehistoric, and the government is ruled by religion. Pregnant women are being captured and monitored. Cedar knows she has to protect her unborn baby, but how? What, where, and who is safe?

Erdrich has written a timely, disturbing, and bleak novel about the degradation of women and the environment. Its relevance is what makes it both difficult and wonderful to read. I'd highly recommend Future Home of the Living God for fans of Margaret Atwood (the comparisons are unavoidable) and P. D. James.
From Lauren at Malcolm Avenue Review:
The Savage by Frank Bill (FSG Originals, November 14)

A follow-up to the bare-knuckled badassery of Donnybrook, Frank Bill's The Savage is set only several years on but light years away. The US dollar and power grid are worthless, and power-and-land-hungry hordes are savaging what and who remains.

Against this backdrop, Bill explores the competing interests of (mostly) men living in the madness, and how they survive in light of their histories and the type of men their fathers taught them to be.

The Savage is soaked in vengeance and unapologetic violence. Bill writes in a unique voice that takes the reader to the heart of the brawl, but from the safety of the other side of the page, you'll look forward to every hit.
PCN recommends:
The Woman in the Camphor Trunk by Jennifer Kincheloe (Seventh Street Books, November 14)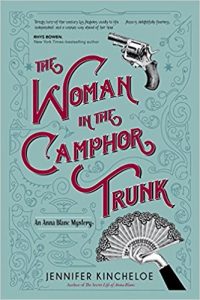 Check out this killer opening line: "Anna Blanc was the most beautiful woman ever to barrel down Long Beach Strand with the severed head of a Chinese man." This captures the tone of the book—whimsical but deadly.
It's 1908 Los Angeles, and assistant police matron Anna's investigation of a murder leads her to Chinatown. Kincheloe strikes just the right balance between dark and light, commenting on serious social issues while keeping Anna madcap but never, ever dumb. Woman is as smart as it's entertaining.
What are you reading this month?