Back in 1987, I reviewed for my school paper the movie Suspect, starring Cher, Dennis Quaid, and Liam Neeson in one of his first American features. I remember writing that even though Neeson was mostly silent as a deaf-mute homeless man, his towering presence commanded the screen and announced him as an actor to watch.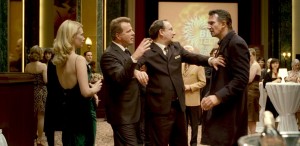 Almost a quarter century later (dang, I'm old), that presence is more potent than ever in movies like Unknown, in which he plays a man up against impossible odds. His character, Dr. Martin Harris, in Berlin for a bio-tech conference, gets in a car accident and regains consciousness only to find that everyone he knows, including his wife (an oddly robotic January Jones), denies knowing him. To add insult to his head injury, another man (Aidan Quinn) has already taken over his life, with all the knowledge and credentials to prove he is Dr. Harris. What the funk?
Left without any I.D. (apparently he can't even check into a seedy motel without it), the original Harris races around the city searching for answers while eluding men who want him dead. His only ally is the cab driver (Diane Kruger) who saved his life during the accident but has reasons for staying under the radar.
The movie is helped along by Neeson, the intriguing mystery, and some decent action scenes, including a white-knuckling car chase. The Berlin locale is nice, too, though I wish the filmmakers had showcased it more. How cool would it have been to have a climactic scene happen at the Brandenburg Gate? Or, a la Frank Fry clinging to the Statue of Liberty in Hitchcock's Saboteur, have someone dangling from the Victory Column in Tiergarten? As it is, we get just a couple brief glimpses of Berlin's iconic landmarks and the rest could have happened in any European city. The denouement takes place at the well-known Hotel Adlon but it looks like many other upscale hotels.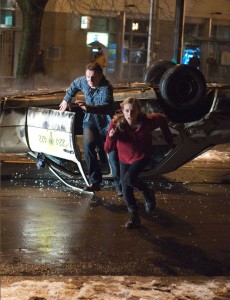 Kruger is better employed as the scrappy Gina, a different kind of role for the actress who usually plays icy, elegant women. Gina is streetwise and proves herself a valuable sidekick to Harris. It is a bit hard, though, to buy a woman looking like a hip fashion model as a cab driver/waitress.
But that's the least unbelievable thing in the movie. After an interesting setup, the resolution includes a too-convenient coincidence and actions that don't make sense (Jones's character does something incredibly stupid). Some plot points aren't even addressed, leaving me almost as confused as Harris. It's not possible to go into details without revealing spoilers so I'll just say that in the end, the answers to many questions remain unknown.
Nerd verdict: Intriguing but ultimately unsatisfying Unknown