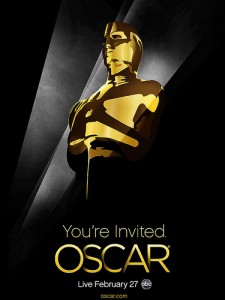 There's been a lot of ink leading up to the Oscars this Sunday and last week I realized I was bored with the nominees being discussed the same way over and over again: Who will win? Who might be an upset? Who should win but probably won't? Zzzzzzzzzzzz.
When I saw yet another article this morning dissecting the 10 best picture nominees, I thought, "What if I mixed the titles together and made up a whole new batch of movies?"
Here's what I produced:
The Grits Are All Right—A woman's quest to find a better recipe for her favorite Southern dish after her mother-in-law said her cooking was "just okay."
The Fighter's Bone—After mistakenly believing that abstaining from sex for 48 hours before a fight would help him, a boxer loses the championship title when his body reacts to a hot ring girl during round three.
The King's Inception—How Colonel Tom Parker met Elvis Presley and helped create a rock 'n' roll icon.
The Social Hours—A reclusive accountant goes on a murderous rampage after being forced to socialize at one too many office birthday parties for co-workers he doesn't know and doesn't want to buy gifts for.
Black Kids—A happily married white couple gets a shock when the wife gives birth to twins significantly darker in skin tone. After many tears, they reconcile when she convinces him it was due to all the self-tanner she used during pregnancy.
True Swan Story—Based on the 2008 incident in which a man was terrorized for three days by an angry swan in Central Park after it got fed up with him repeatedly throwing Taco Bell wrappers in the lake.
127 Toys—The disturbing discovery in J. Edgar Hoover's closet after his death.
Which one of these would you see? Feel like producing your own? The titles you can play with are: Black Swan, 127 Hours, The King's Speech, Inception, Toy Story 3, The Social Network, Winter's Bone, True Grit, The Fighter, and The Kids Are All Right.
Leave your hybrid titles with fake plots in the comments and, if we get enough "nominees," we'll vote for one to win the best picture Acanerdy Award!