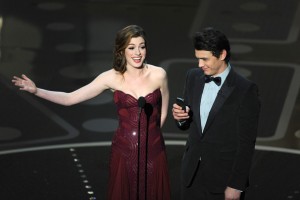 Watching the Oscars is akin to how people describe childbirth to me—it's painful but after some time passes you forget about the pain and want to do it again. I don't think I've really enjoyed an Academy Awards show since Billy Crystal hosted but every year I get excited about it. Tonight's show, though, was one of the most awful in recent memory, something I wouldn't have expected with James Franco and Anne Hathaway as hosts.
I like these two actors on film and both are multi-talented so I'm still scratching my head as to why the show was so dull. Hathaway makes me laugh when she hosts Saturday Night Live (have you seen her Katie Holmes impression?) and was winning when she dueted with Hugh Jackman in the musical number that opened the Oscars two years ago. And Franco—I find him funny even when he isn't trying to be. But their opening dialogue tonight was devoid of laughs (you know the show's in trouble when Franco's grandma was funnier than the hosts with her line, "I just saw Marky Mark!") and it was painful to watch Hathaway pushing through it while Franco looked like he couldn't be bothered. I suspect he's a collector of experiments, agreeing to do this so he could pull off stunts like tweeting live video of himself during the show from backstage and even as he went onstage (you can see him recording these clips on his phone in the photo above).
The actors' inability to entertain was emphasized when Billy Crystal came out to do a short monologue about past Oscar hosts, seguing into clips of Bob Hope, the person who has hosted the most times (18). Both Crystal and Hope, in comedic bits from over 50 years ago, were funnier than Hathaway and Franco. (Heck, former host Hugh Jackman sitting in the audience was funnier.) I'm sure I wasn't the only viewer hoping Crystal would take over for the rest of the ceremony. That would've been the biggest and most welcome surprise of the evening.
But enough about the hosts. Let's move on to the show. You've probably heard the winners in the major categories were The King's Speech for best picture, Colin Firth for actor, Natalie Portman for actress, Christian Bale for supporting actor, Melissa Leo for supporting actress, Tom Hooper for director, Aaron Sorkin for adapted screenplay, and David Seidler for original screenplay (for the full list of winners, click here). I will now award my own Nerdies for the highlights of the show.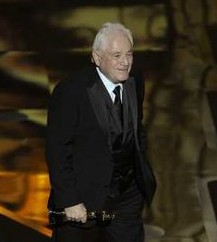 Most princely speech: David Seidler. The man who wrote eloquent speeches for the cinematic King George VI in The King's Speech gave a beautiful one himself, easily the best of the night. The 73-year-old Seidler started with "My father always said to me I'd be a late bloomer." He noted that he's the oldest winner in his category then said, "I hope that record will be broken quickly and often." He concluded with "I accept this on behalf of all the stutterers of the world. We have a voice, we have been heard, thanks to you, the Academy." Future winners should study his model: classy, witty and no wasted words.
Best mind-reader: Cate Blanchett. While watching the nominees for best makeup, I thought The Wolfman's clips looked particularly gross. When they ended, Blanchett said, "That's gross." She cannot be more awesome.
Most non-shocking "upset": Tom Hooper's. I was on Twitter when the director category was announced and a lot of folks seemed upset or shocked by his win. Why? First of all, Hooper won the DGA award, a pretty strong indicator he'd win the Oscar. Secondly, he made me care about a king who lived over 60 years ago in a foreign country while David Fincher couldn't make me give a damn about people living today and events that are still unfolding (the Winklevoss twins are appealing their settlement). And I use Facebook!
Dance number I'd most like to have seen: Colin Firth's. The year's best actor said "I'm afraid I have to warn you that I'm experiencing stirrings somewhere in the upper abdominals which are threatening to form themselves into dance moves." Warn us? How about make it a promise for next year's show?
Romantic comedy I'd most like to see: one starring Firth and Sandra Bullock. While presenter Jeff Bridges' scripted tributes to the five best actress nominees were cringe-inducing, Bullock managed to make her praise of the five best actor nominees funny and off the cuff. She was especially charming with Firth, making me think, "Why hasn't anyone paired these two in a movie?"
Most mis-understood moment: Christian Bale regarding his wife's name. While the Internet is speculating and chastising the actor for seemingly forgetting her name when he thanked her, I don't think this is the case, based on the fact he never mentions her name or his daughter's in public (though the media has identified his wife). If you scroll back through all the acceptance speeches and interviews he's done this season, you'll find this to be true. His sister, whom I used to know through work, told me he's fiercely private when it comes to his family.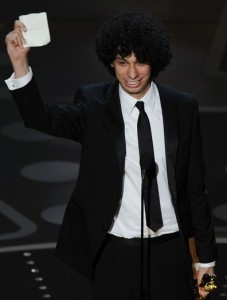 Best live-action Muppet: Luke Matheny. With his mop of hair and bouncy energy, the live-action-short winner was so infectious I was hoping he'd launch into a musical number with Kermit and friends.
Dish most people would probably want to eat: the Randy Newman chicken. Having been nominated 273 times (OK, it's actually 20), the singer/songwriter, who won his second Oscar this year for best original song from Toy Story 3, joked there's now a dish named after him at the annual nominees' luncheon. Since he seems to get nominated every other year, we should all have what he's having.
What did you think of the show and the hosts? Most/least favorite moments? Click here to read behind-the-scenes anecdotes from a friend of mine who attended the ceremony.