Wow. It feels like I haven't written a post in a month but it's only been six days. I'm doing a play which opened last Thursday (if you're in L.A. and like theater, come on down!) and the days leading up to opening night were busy with tech and dress rehearsals. During downtime backstage, I did manage to read a few books and here's a review of one, with more to follow this week.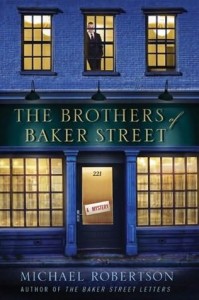 The Brothers of Baker Street by Michael Robertson
Reggie Heath is back in London after traveling to Los Angeles in the charming The Baker Street Letters (first in this series). The previous adventure has left him broke and no longer in a relationship with actress Laura Rankin. But he still has his law office at 221B Baker Street—Sherlock Holmes's address—as long as he maintains his agreement with management that he answers letters that arrive on a regular basis addressed to the famous detective.
But Reggie doesn't have time for the letters. In a bid to rebuild his career, he takes on the case of a Black Cab driver accused of murdering two American tourists. Then an important clue turns up in a letter from someone claiming to be a descendant of Professor Moriarty. The letter writer also believes Reggie is Sherlock Holmes brought back to life through cryogenics and promises to avenge the professor's death.
Though Brothers has its moments, it's not as enjoyable as Letters partly because Reggie's lawyer brother, Nigel, is missing for nearly half the book (he's in L.A. with his lady friend until he's called home to help Reggie). The dynamic between the two is part of the draw for me. Responsible Reggie is not as much fun without his eccentric brother around to frustrate him.
Laura's relationship with the boorish Lord Buxton is also problematic. He publishes trashy tabloids, the two have zero chemistry, and she seems to prefer Reggie's company over Buxton's. I don't need to see her back with Reggie—they had some problems in the last book—but if she's only with Buxton because he has money and Reggie doesn't, then she has become a shallow character undeserving of Reggie's devotion.
Another issue is the lack of mystery surrounding the letter writer claiming to be Moriarty's descendant. The identity of this person becomes quite obvious about halfway through the book, with giant clues pointing to the culprit like neon signs flashing "Villain alert!" The denouement, however, is a fitting homage to the Holmes-and-Moriarty legend. This book may be underwhelming but the brothers remain engaging characters and their connection to Holmes will have me on board when their next game is afoot.
Nerd verdict: Brothers has issues
What have you been reading?
Amazon
| B&N| IndieBound