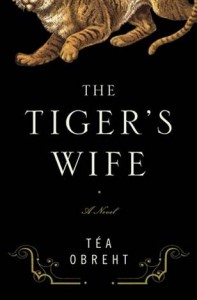 Though this is Téa Obreht's debut novel, it arrives with loud fanfare after the author landed on The New Yorker's "Best 20 Under 40" list—she's the youngest at 25—and the National Book Foundation named her one of the "Best 5 Under 35." In addition, The Tiger's Wife has received starred reviews from Publishers Weekly, Booklist and the Library Journal. Does the book live up to the hype? Yes and no, depending on how much you like narration vs. dialogue.
The narrator is a young doctor named Natalia who's traveling in an unnamed Balkan country with her friend Zóra to deliver medical aid to an orphanage. On the way, Natalia receives news that her beloved grandfather has died under mysterious circumstances away from home. She sets out to bring back his belongings and in the process recalls the stories he had told her since childhood. These include tales of "the deathless man" her grandfather met as a young man, a tiger who came to live (and be feared as the devil) in her grandfather's village when he was a boy, and the deaf-mute girl who became known as the tiger's wife.
Obreht is undeniably a gifted writer, able to conjure vivid imagery in her descriptions of a country ravaged by war. Her understanding of history lends depth and maturity to her storytelling. The problem is there's too much of a good thing. The author's omniscient voice is everywhere so she tends to describe everything, even getting inside a tiger's head to describe his feelings. She often writes up to a dozen pages of narrative without any dialogue. This style left me feeling a little removed from the proceedings. Dialogue draws me into scenes in an immediate way, making me feel like someone eavesdropping on conversations. Too much narration renders me passive as a reader, as if I'm only getting a summary of characters' actions after the fact. I often missed the insight that can be gleaned from what people say to each other, whether or not they're telling the truth. Some readers may have no problem sitting back and being told a good story; I like to feel as if I'm inside it.
Obreht's cast of characters is uneven, with some much more interesting than others. The grandfather is the strongest link; every scene he's in is riveting. The deathless man with his mysterious coffee cup is also quite a creation; someone who possibly works for Death should be creepy but is instead charming and well-mannered. The deaf-mute girl is a heart-rending figure elevated to mystical status and the tiger at times seems more human than the men who engage in animalistic violence.
Because these stories are captivating, I got impatient with the chapters about the less intriguing characters, including Natalia. She's chasing the truth about her grandfather while remaining somewhat of a blank slate. Obreht also digresses into the histories of the butcher and the apothecary from the grandfather's village. The backstories do have emotional resonance but are disproportionately long for such tangential characters, pulling focus away from the central ones. Ultimately, Tiger's Wife has much to be admired even if it's not quite as magical as some of the legends it tells.
Nerd verdict: A tame Tiger's