by Poncho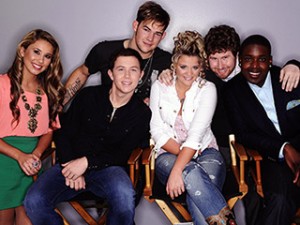 This week's theme was Carole King's songbook, and I have to say CK was good for most of these kids. The night was kind of boring, though, except for a few "highlights" now and then.
Jacob Lusk opened with "Oh No, Not My Baby." He was dressed like a clown and that matched his performance. It was uptempo and actually quite fun. He botched a lot of the higher notes but it came together on the lower ones. This is the first time I didn't hate his performance, perhaps because it seemed he didn't take himself too seriously and he pulled back on his skanky diva faces. He still reminds me of Juan Gabriel's dancing, though.
Then Lauren Gilmore Alaina sang "Where You Lead" and though she wasn't perfect, she was way more relaxed than last week. The backups were actually a great help to her because she sounded a lot better when she harmonized with them. And wow! She serenaded a random guy from the audience, even pulling him to the stage. She was flirty AND age-appropriate. That was nice, but there were flaws in her vocals.
The first duet came courtesy of rumored couple Casey Abrams & Haley Reinhart with "I Feel the Earth Move." It was nice. The solos weren't that interesting but when they started harmonizing, it was quite good. There was real chemistry there and the arrangement suited both of them. The bad thing was, the flaws in Casey's higher register raised their arms to be noticed.
Scotty McCreery took me by surprise. He didn't quite go out of his comfort zone, but he did try something different. He did a sort of romantic performance with "You've Got a Friend" and managed to pull the cheese back completely until the closing verse. His vocals were smooth and nice for almost the whole song, though he cracked during a few of the higher notes. It was good nonetheless and a nice step forward for him. I'm still waiting for him to have a real Idol Moment™, especially since lots of people are labeling him the frontrunner.
James Durbin was next with a nice rock 'n' roll twist to "Will You Still Love Me Tomorrow." It was a little overdone in some parts with his higher register, but the whole thing came together very well. It's the first time that I can recall this season when there was a good rearrangement of a song that actually fit both the song and the contestant. It was very nice, indeed.
The next duet was "Up on the Roof," sung by Lauren and Scotty. Lauren's voice sort of drowned Scotty's in a few places; he seemed to be singing only the harmony. I think the song was a little high for Scotty in most parts, but I liked some of Scotty's moments better than Lauren's. Their voices don't complement each other the way Casey & Haley's do. It was a nice try, but it felt lacking.
Next, Casey growled through "Hi-De-Ho" and I don't get why the judges thought it was that good. Casey talked, shouted and growled through the verses, and there was no musicality to it except for the musicians on stage. The whole thing was lame and came out as an angry bashing of the audience. Some random girl was almost throwing herself at him but Casey seemed to ignore her and kept sneering and shouting. Oh, but the cool sax player [from two weeks ago] was there! Other than her, I didn't like the performance at all. By the way, Casey has managed so far to disrespect both Nirvana & Maroon 5. I say put him in the bottom three or kick him out!
Haley then sang "Beautiful" and she sang it beautifully, but the background was hurting her. I read there were troubles with the sound and ear monitors, and there was chaos on stage before her performance. I'm starting to think: "Are the producers actually trying to hurt her?" It's not the first time I've felt it in the last few weeks. She's the ONLY contestant they give lukewarm criticism to week in and week out even though she's the only one actually growing as a performer. And now this. (I did hear, though, there were also sound issues during Jacob's turn last week so I don't know.) Other than that, Haley did well. She didn't blow me away as she's done other nights, but it was a good effort. I hope she's safe.
James & Jacob's duet was so crappy it was funny. They did a sort of rock arrangement to "I'm Into Something Good" and it actually hurt them, since they both did some caterwauling and shrieking. At one point they even serenaded La Lopez, but it was all a mess. The whole thing looked like they got drunk, decided to match clothes, went to a karaoke bar, picked some random Carole King song and tried to seduce a girl while also kind of seducing one another. Weird stuff.
What did you think?