As many of you know, I'm a bit of a Holmesian nut, so I thought I'd point out a few upcoming Sherlock Holmes-related things.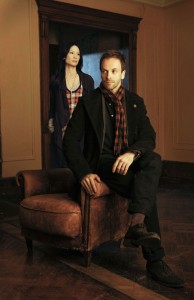 CBS announced last Sunday that it had picked up the pilot Elementary, about a modern-day Holmes and Watson in New York City. It stars Jonny Lee Miller as the famous detective and Lucy Liu as his partner, Joan Watson. Below is a first look at the show.
Miller is a decent actor (I enjoyed him on Eli Stone), but I can't help hearing Benedict Cumberbatch's voice (Cumberbatch plays Holmes in the current hit BBC version) spouting some of the lines in this clip. The difference is that Cumberbatch's detective is much more gleeful when he gets to show others how brilliant he is. Solving crimes is entertainment to him and he loves having an audience. Miller's version seems to be more serious, having just come out of rehab.
Over on Criminal Element, author Lyndsay Faye has a post about what CBS needs to do with this show to keep fans happy. She knows what she's talking about because she's not only an expert on the canon, she has seen the pilot.
This Sunday is the final episode in season 2 of BBC's Sherlock. It's titled "The Reichenbach Fall," which should give you an idea of what happens if you're familiar with the stories. If not, the only thing you need to know is that this series is exceptional and possibly even makes you smarter after watching it. Check your local PBS listings.
On May 22, as my friend Debbie D. informed me (thanks, Deb!), the Hammer Museum in Los Angeles is hosting an event called "Some Favorite Writers: An Evening with Sherlock Holmes and Friends," featuring Holmes scholar Leslie Klinger, writer/director Nicholas Meyer, crime novelist Denise Hamilton, and real-life P.I. Sarah Alcorn. More information here if you're in the area and would like to attend the free program.
What do you think of the Elementary clip? Will you watch? Are you excited, or slightly distrustful like Faye?