The TV upfronts officially start this Monday, with the networks rolling out their fall and midseason schedules, but news have already leaked over the last few days about shows that have been picked up and canceled. Following are the ones that look most interesting to me.
NBC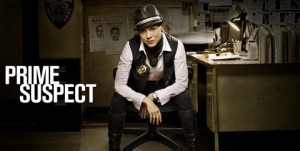 I am really curious about the American adaptation of Prime Suspect. How does someone replace Helen Mirren as Jane Tennison? It's hard to tell from this short clip how good the show is, but I think Maria Bello is a very interesting choice so I'm willing to give it a chance.
The other two new NBC shows that look good won't premiere until midseason but I'm willing to wait if the network uses the time to make sure they're done right. First up is Smash, from an idea by Steven Spielberg about a group of people trying to stage a Broadway show about Marilyn Monroe. It features Anjelica Huston (what a coup!), Debra Messing, and American Idol season 5 runner-up Katharine McPhee.
The other intriguing NBC pilot is Awake, which looks Inception-like from this clip. Starring Jason Isaacs (Lucius Malfoy!), Cherry Jones, and B.D. Wong, it's about a detective who awakes after a family car accident to find his wife dead and his son alive. But he wakes up another day in a parallel universe to discover that his son perished in the accident while his wife survives. He tries to keep both alive by moving back and forth between the two worlds and solving crimes in both realities.
In other NBC news, David E. Kelley's Wonder Woman pilot was rejected, 30 Rock is being held until midseason due to Tina Fey's pregnancy, Chuck is coming back for its final season, and The Event and Law & Order: Los Angeles have been canceled.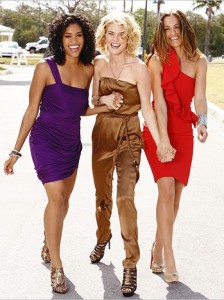 ABC
ABC hasn't offered any preview clips so I'm judging only by the descriptions, which all sound ho-hum. I'll check out the Charlie's Angels reboot for nostalgic reasons (I had trading cards growing up) and maybe Apartment 23, a sitcom about a Midwestern girl dealing with roommates from hell in New York City. James Van Der Beek is supposedly very funny in it and though I've never been a Dawson's Creek fan, that nugget of info has me curious.
CBS
The eye network has been pretty quiet about pilot pickups, but there's one that looks very promising. Person of Interest stars Jim Caviezel as a CIA agent who's supposed to be dead but is instead fighting crime in New York City. This has amazing talent attached, from Taraji P. Henson and Michael Emerson on camera, to Jonathan Nolan (Christopher's brother and co-writer of The Dark Knight) and J.J. Abrams behind it. In other news, The Defenders and S#*! My Dad Says both got the ax, which I'm sure you're heartbroken to hear.
FOX
I'll probably sample The New Girl, with Zooey Deschanel as a quirky (what else?) teacher living with three men. If the show can be half as much fun as my own experience living with two male roommates in my twenties, it'll be a blast. I also think I Hate My Teenage Daughter sounds funny. Jaime Pressly and Katie Finneran play two women whose daughters turn out to be mean girls like the ones who picked on them in high school.
On the drama side, J. J. Abrams landed another pilot with Alcatraz, starring Lost's Jorge Garcia. There's lots of secrecy surrounding this show but it's supposedly about something mysterious that happened on the island prison 50 years ago, and a group of FBI agents investigating why prisoners who went missing are reappearing in present day. This sounds like it could be amazing, but if it gets too dense like Lost did towards the end, I'll tune out. UPDATE: Below is the first look.
CW
The only interesting news about its fall schedule so far has been the pickup of the thriller Ringer, which was intentioned for its sister network CBS. The show stars Sarah Michelle Gellar as twins who both have prices on their heads. I really don't care what else it's about. I'll be there for Buffy's return to TV, with my fingers crossed and hoping it won't suck.
Are you excited about any of these, or are you yawning already?