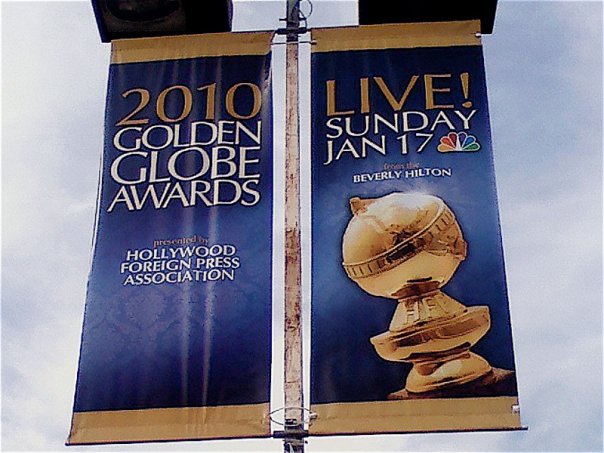 After the ceremony (and maybe a party or two), a friend of mine who had attended the Globes called and we chatted briefly about some things that weren't shown on TV. She wished to stay anonymous since she often works with many of the celebrities in attendance.
PCN: Did you have fun?
A: Yeah! It's so ridiculous. Marion Cotillard and Mo'Nique are kind of like my buddies now. At the end of the night, Mo'Nique kissed me on the cheek and said, "See you at the SAG Awards [next weekend]!"
PCN: Don't make me push you down the stairs. What other moments stood out for you tonight?
A: The reunions [of former co-stars]. At one point, John Lithgow was talking with Joseph Gordon-Levitt and Jodie Foster ran into Mel Gibson, who was wandering around because he didn't have a seat.
PCN: Why didn't he have a seat?
A: Lots of stars show up just to make an appearance and then leave. They don't stay for dinner.
PCN: Who else did that?
A: Cher, Christina Aguilera, Josh Brolin, off the top of my  head. Oh, get this. For some reason, Taylor Lautner had better seats than Amy Adams, Halle Berry and Kate Winslet.
PCN: What?!
A: I know! The best seats are on the bottom floor and then there's the second tier. So on the floor there was Robert De Niro, Daniel Day-Lewis, Sophia Loren and Taylor Lautner.
PCN: That makes no sense. OK, what got the biggest gasp in the room?
A: When Ricky Gervais made the crack about Mel Gibson.
PCN: What did you think of Gervais?
A: He's very nice but I don't think he was great [as host]. He was well-spoken and witty but for some reason, I wasn't drawn in, I wasn't enthused.
PCN: I hate to say it but I have to agree. He certainly wasn't terrible but I expected him to be much funnier.
A: Oh, I have another call. Gotta go!