by Poncho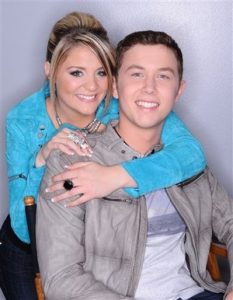 I couldn't believe myself. This afternoon I read somewhere that Lauren Alaina might miss the finale and Haley would have to fill in for her. Turns out Lauren blew a vocal cord while rehearsing. I felt like the worst person ever for a few moments because I actually wanted Haley to have another chance, but then I went back to my usual nicer self (I hope) and actually prayed for Lauren to get better. Gladly, she did, and went to sing on the finale. It would've been much more interesting with Haley there, but it would also be unfair. You know, America voted.
I'll give it to Lauren—pulling herself up and singing with whatever limitations she might have had because of her strained voice IS very professional. But on the other hand, I expect people to vote for the best one, not to pity-power-vote for Lauren. I'll consider the damage to her throat, but I'll try to be just. After all, it's the final two and one of them will take the whole enchilada.
So, let's get to the performances.
Round one was the repeat round. The kids got to sing stuff they've already performed, hoping to match—or improve—their first go. I dreaded this round because so far only one person has had a better moment on his second try: Kris Allen. Anyway, this is how it went.
Scotty McCreery opened with a repeat of his performance of "Gone," which I thought was pretty nice the first time. This one? Well, vocally it was way better, though we still can hear the places where his range ends. I applaud the song choice. Not only was it one of his best performances, but one which allowed him to power-play his corniness accordingly and was not as similar to the others he's been singing.  He toned down the crazy faces and played the whole stage instead, even coming out from the audience. But all in all, it was underwhelming. I'll give it a B-.
Lauren's repeat was "Flat on the Floor," which I also think went quite well the first time. Though it didn't repeat the thrill it gave me, this second time also went fine. I guess Lauren likes this song because it looked like she was having fun, but I also felt like she was afraid her voice might crack (or was it my fear?). I was thinking there wasn't much damage to her voice, until the shouty parts of the song where I could hear her stretching. Overall, it was a nice performance and I'll give it a B.
For round two, some actual successful recording artists picked songs for the wannabes. And if anyone didn't feel like this was Country Idol, they might've gotten the Grand Ole Opry feel when it was revealed George Strait ("The King of Country") and Carrie Underwood ("The Country Robot Idol") would be making the choices.
Strait chose "Check Yes or No" for Scotty. Now, imagine you have a cheeseburger. You throw away the bread, the meat and the veggies. What you have left, you cover in cheddar, add a pound of Velveeta, then garnish it with maize. That's how corny and cheesy the performance was. He tried to cover it with a guitar, and kept the cheese factor locked in one place with his I've-been-riding-a-horse-seventeen-hours-straight stance, but…yuck! I'll give it a C.
Underwood picked "Maybe It Was Memphis" for Lauren, who reminded me how young she is by wearing a tutu and silver cowboy boots. I don't know if she was trying to create the trailer-park-Sailor-Moon look, but with a pair of twin ponytails, the whole "I'm a child" shtick would've actually made me turn off the TV! I will say again that there's somebody either evil or clueless behind her because she couldn't have come out more ridiculous if she performed in a Snow White costume. And her voice wasn't strong. It just wasn't. Blame the injury or whatever, but the performance wasn't good at all. I'll give it a C.
I don't know why I hadn't noticed by this point, but the judges weren't speaking. Yeah! If they hadn't been tools, I wouldn't have minded their opinions, but since we would've most likely heard stuff along the lines of "It was beautiful," "You gave me the goosies," and "You're in it to win it," I think the Mexican proverb is right: En boca cerrada no entran moscas. In a closed mouth no flies come in.
Anyway, for round three it was Jimmy Iovine who picked songs for them.
"I know I'm still young…," Scotty's third performance started, and I was like "Yeah! I know!" The song was "I Love You This Big," and for the first time I felt something was wrong with me. I actually liked the visual part of his performance. Nay. I LOVED the visual part of the performance! It was held back, heartfelt and quite honest (even the shot of his crying mom). But whatever he was singin', I didn't listen. He sounded fine on a couple of verses, and then the band came in and the banshee backup singers overwhelmed his voice and I couldn't hear him. That was sad. I will give it a B.
Lauren sang "Like My Mother Does" and when it started, I was half expecting another pageant-y performance. But then mid-performance, Little Lauren walked down the stage (cue gentlemanly Ryan Seacrest) to hug her mom. And though I don't doubt the girl loves her mom, it felt VERY rehearsed. But it worked. Lauren lacked the health—or the expertise—to blow people away vocally, so she instead used the emotional weapons without going into overly sentimental and pitchy territory. And I'll admit it, I got misty-eyed. On another note, one look at her mom and I suddenly forgave Lauren for all her wardrobe wrongs. I'll give the performance a B+.
OK, so what do you think? Who will be the next American Idol?
Photo: FOX/Michael Becker