Got lazy busy this week despite (because of?) the short week so I'll just post or link to a few things I found interesting around the web.
Here's the international poster for David Fincher's adaptation of The Girl with the Dragon Tattoo. I have no idea why Lisbeth is half-frontal naked. Because she's not objectified enough or the movie needs more attention?
Entertainment Weekly reports that Martin Scorsese might direct a biopic about Elizabeth Taylor and Richard Burton. Not sure this would be a good idea. Who amongst our contemporary stars could play the iconic couple? EW suggests Clive Owen and I'd be completely behind that, but I'd have to say no to Catherine Zeta-Jones. The actress is gorgeous but oddly lacks charisma. Do you have any casting ideas?
The funny video below, George Lucas Strikes Back, explains why the Star Wars prequels were so awful: Lucas was kidnapped twenty years ago and an impostor made those movies. Short Round makes a cameo in this "trailer" and the actress playing Leia really has her Carrie Fisher impression down.
The Rap Sheet put together a list of 100 crime fiction novels you should check out this summer. I've read some of them; there's some good stuff on there.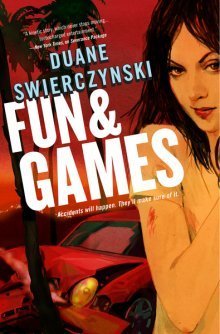 One of the books on the list, Duane Swierczynski's Fun & Games, is in my top three of favorites so far this year. It's the first in a trilogy featuring a great new character named Charlie Hardie. Duane is doing a fun giveaway for those who pre-order F&G. Prizes include personalized copies of his five previous novels, postcards from him as he travels across America on his book tour later this month, and the chance to name a character in the third Hardie book. Get the scoop here.
David Sedaris has a new short story out. It'll be published in the paperback version of his Squirrel Seeks Chipmunk but you can read it here now. It's titled "Vomit-Eating Flies" and isn't for readers with weak stomachs but it has his trademark wit and commentary.
June 1 would've been Marilyn Monroe's 85th birthday, so LIFE released rare photos from when she was a 22-year-old actress just starting her career. The pictures show her taking ballet, acting and singing lessons, and Marilyn seems delighted by everything. See the rest of the gallery here.
Finally, my Friday reads are Liane Moriarty's What Alice Forgot and Karin Slaughter's Broken. What are you reading?
Have a great weekend!