I wanted to write about Harry Potter but got completely slammed this weekend with deadlines for various projects so I'll just reprint, with permission, my Shelf Awareness review in case you missed it in Friday's issue. (What do you mean you haven't seen it? Why haven't you subscribed to SA?). Hopefully, I'll get around to my HP retrospective later this week. Have a groovy Monday!
*********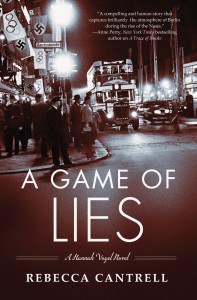 Intrepid German reporter/spy Hannah Vogel is back in Rebecca Cantrell's A Game of Lies, her third mystery set in 1930s Berlin. Posing as a Swiss journalist, Hannah sneaks back into Berlin to cover the 1936 Summer Olympics, and to meet with her mentor about a package he needs couriered out. The meeting goes awry, people die, and Hannah, hunted by the Gestapo, risks her life to find the mysterious package.
Cantrell, who studied in Berlin, easily drops the reader into Nazi Germany. She weaves period details and real people into the story, making it both fascinating and educational. Readers may not know that the only Jewish athlete allowed to compete for Germany in that year's Olympics was Helene Mayer, a fencer, and though Jesse Owens's gold-medal wins are old news, reading about the "Negro's" triumphs on Aryan soil is still satisfying.
Cantrell maintains a sense of danger throughout, not just for Hannah but for anyone who dares defy the Nazi doctrine. This makes it impossible for the reporter to trust even long-time friends fully. Further complicating her mission is her growing attraction to the SS officer Lars Lang, who poses as her lover and helps her spy for the British. Not only are his motives questionable, but he struggles with alcohol and his temper. Hannah's feelings toward Lang are fraught with red flags, but the tension between them is surprisingly sexy. Hannah's actions risk making her young son an orphan, but her fight for a better world is noble, and her perseverance is something to admire.
Nerd verdict: Intriguing Lies