When I'm not blogging, I'm sometimes doing questionable things like running from park rangers up at the Hollywood sign, but sometimes I'm writing for other sites which are craz—er, magnanimous enough to pay for my ramblings. I have a post up at Criminal Element about how I solved The Case of the Missing Keys for a friend, and below is my review of Don Winslow's new release, which I'm re-running here with Shelf Awareness's permission. Thanks to fellow blogger le0pard13′s amazingness, I got to read the UK version of this book last year but Winslow's writing holds up on second reading, and third, and beyond.
Speaking of SA, if you click on the widget in my sidebar (below my blogroll) and subscribe to the free readers' edition, you're entered in giveaways of new books. Right now, it's a copy of Laura Lippman's The Most Dangerous Thing, which doesn't come out until August 23.
That's it for today. Hope you're out having fun making lots of mischief!
The Gentlemen's Hour by Don Winslow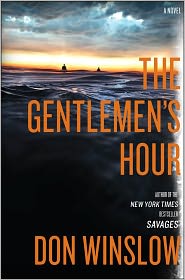 In this sequel to The Dawn Patrol, surfer PI Boone Daniels takes on a case that threatens to destroy his friendship with his beach buddies. He's hired to help defend the confessed killer of Kelly Kuhio, a surfing legend and saint-like leader in the Pacific Beach community. Everyone wants the perp's head on a stick, but Boone thinks something's fishy with the eyewitness testimonies and the confession attained by Boone's cop friend, Johnny Banzai. Boone also agrees to spy on the wife of an acquaintance from the gentlemen's hour–the shift after the dawn patrol on the daily surf clock–to see whether or not she's cheating. Turns out, the cases may be related, and much deadlier than Boone anticipated.
Readers should dive in even if they're not surfing fans. Don Winslow is so skilled a writer, he could do a dissertation on dirt and make it entertaining. His style is conversational, like having someone in your living room tell you a really good story. His prose is as rhythmic as music, his dialogue crackles like fireworks, his characters are as real as your best friends. Winslow tackles serious subjects but makes you laugh before you realize you've been kicked in the heart.
And Boone's not a stereotypical, loner PI; he has great friends. Their bond is deep, making its fracture all the more painful. But that's why we root for Boone. Anyone can do the right thing when it's easy, but only a gentleman can do it when it's nearly impossible.
Nerd verdict: Readers should definitely spend a few Hours with this book