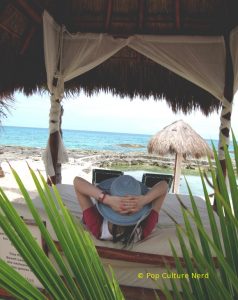 As we head into the weekend with our Friday reads (have you shared yours on Twitter yet?), I'm already daydreaming about how many books I'll get to complete and where I'll be reading them. In my home, it's just on the couch next to a big window or propped up in bed, but one of my favorite reading spots ever was in this beach bed in Mexico near Playa del Carmen. I was at an all-inclusive resort and the package included sports, canoe and bike rentals, blah blah, and yes, I took advantage of some of those things, but mostly I just hunkered down in one of these beds and sipped virgin margaritas or ice cold lemonade. Servers came out to the beds to take food and drink orders—it was as if they wanted us to never leave.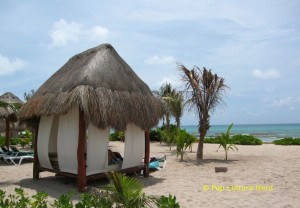 The beds were popular so I had to rise at rude hours to claim one. And I never get up early on vacation (or ever). One time, I almost had to engage in hand-to-hand combat with another guest who wanted the last one available. Luckily, I was reading Lee Child's Bad Luck and Trouble at the time so I just intimidated the other guy with some Reacher 'tude and he skedaddled like a sand crab. He might have even checked out of the resort and hurriedly left the country but I can't verify that.
Anyway, where are some of your favorite reading places? I hope it's heavenly there. Happy weekend!